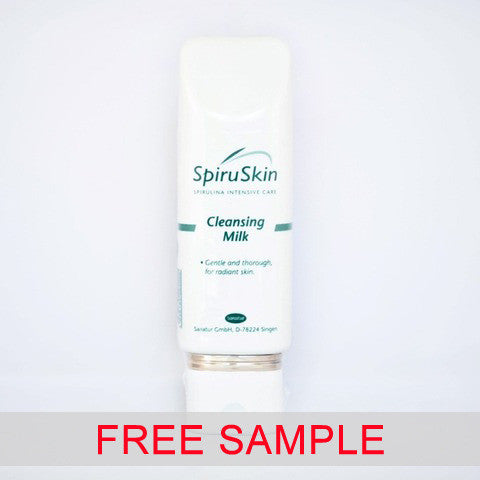 Spiruskin
Spirulina Spiruskin Cleansing Milk - FREE SAMPLE
£0.00
The Spirulina based product, SpiruSkin Cleansing Milk is one of our favourite products by SpiruSkin a company who use Spirulina in its formulations.
Spirulina based Cleansing Milk by Spiruskin
for moisture poor and dry skin
for adult skin
for demanding skin
for sensitive skin tending to facial erythrosis or telangiectasis
for irritated skin tending to redness
for fatty skin with big pores (seborrhea)
for skin tending to impurities and acne
Spirulina based product by SpiruSkin Cleansing Milk removes soft and thoroughly all fat and water soluble impurities, cream, make-up and sebum.
Valuable caring substances calm at the same time-sensitive skin tending to impurities. Sweet almond oil and maize germ oil provide the necessary lubrication.
Important, natural substances:
Spirulina platensis microalgae with various amino acids, vitamins and vital substances
Sweet almond oil
Maize germ oil
About Spirulina Spiruskin Cleansing Milk - Free Sample
We will send you a free sample sachet of the Spirulina, Spiruskin Cleansing Milk for you to try. 
The only way you will know if this Spirulina product is going to work for YOU is to try it!
Cost £0.00
If you have any questions about Spirulina, or the Spiruskin product range, send us an email.