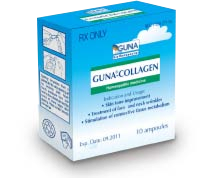 Guna
Guna Collagen D6 Ampoules
£54.38 £3,262.80
Uses:
Stimulation of autologous collagen synthesis. Treatment of face and neck wrinkles.
Directions:
1. Use a 13 mm 30G needle to cannulate the wrinkle by moving the needle gently from left to right while injecting the content of the syringe.
Or:
2. Use a 4 mm 30G needle to make the classic intradermal or subcutaneous and inoculate 0,2-0,3 ml of product according to mesotherapeutic technique.
Standard protocol according to mesotherapeutic technique using 1 or more ampoules per treatment: 1 treatment a week (average 8-10 sessions). For long- lasting results a maintenance therapy is recommended based on 3-4 sessions 1 - 2 times a year.
Ingredients:
Collagen, Porcine 6X
Most common combination:
Guna-Collagen + Guna MADE: treatment of deep wrinkles.