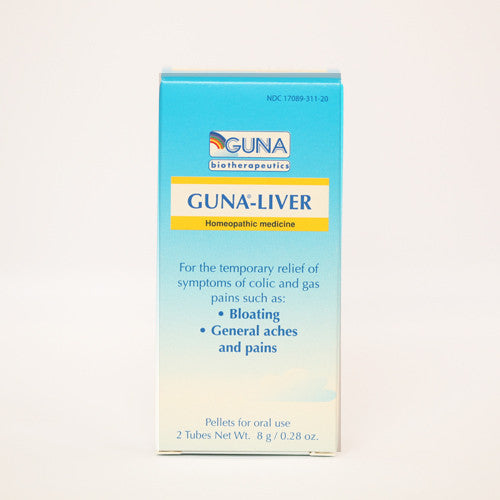 Guna
Guna liver - Granules
£32.16
Uses:
Hepatic insufficiency, hepatic hypercholesterolemia, familial hypercholesterolemia, hepato- biliary detoxification, cholelithiasis with hyperbilirubinemia, hepatic steatosis, alcoholism, digestive disorders, and skin rashes.
Directions:
3 pellets 2-3 times a day.
Package Size:
2 tubes containing of 4gr. of granules
Most common combinations:
Guna-Liver + Guna-Matrix: + Guna-Cell: pharmaceutical damage (iatrogenic diseases).
Guna-Liver + Guna-Bowel: digestive disorders; persistent constipation.
Guna-Liver + Addict 1 & Addict 2: treatment for alcohol addicted patients.
Guna-Liver+ Guna-Dermo: dermatitis, dermatosis, eczema, psoriasis, cutaneous (Skin) rashes.
Guna-Liver+ Guna-Hemorrhoids: hemorrhoids.
Ingredients
Carduus marianus 2X Ceanothus americanus 6X Chelidonium majus 2X Chionanthus virginica 6X Cholinum 4X
Cobalamin 4X
Fumaricum acidum 4X
Gall bladder, Porcine 8X
Hepar suis 6X
Inositol 4X
Jejunum, Porcine 8X
Kali sulphuricum 6X/8X/12X Leptandra virginica 6X Lycopodium clavatum 6X Natrum oxalaceticum 4X Natrum pyruvicum 4X
Natrum sulphuricum 6X/8X/12X Niacin 6X
Pancreas suis 8X
Pyridoxinum hydrochloricum 6X Riboflavinum 6X
Spleen, Porcine 8X
Taraxacum officinale 2X Thiaminum hydrochloricum 6X