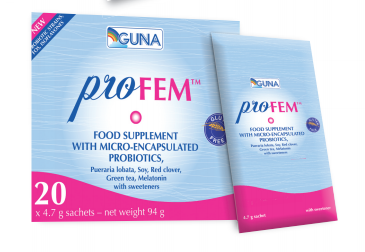 Guna
Guna ProFem - Sachets
£36.47
Profem Natural, innovative and unique support formulated for a broad spectrum of action
The "enhanced probiotics" and the plant ingredients of ProfemTM make it a complete help for:
Reducing menopausal symptoms:

hot flushes, night sweats, insomnia, mood alteration, irritability, nervousness

Improving skin elasticity and mucosal hydration (against vaginal dryness and dyspareunia)

Maintaining intestinal flora balance and functional efficiency

Counteracting the onset of genito urinary infections

Maintaining physiological blood pressure

Preventing the increase of osteoporosis risks

Controlling weight gain and water retention
The microencapsulation of the probiotic strains improves the intestinal colonization fivefold.
Fields of application: 
Treatment of menopausal symptoms:
Hot flushes

Mood swings and altered sleep-wake cycle

Vaginal dryness

Decreased skin turgor and elasticity

Intestinal dysbiosis

Susceptibility to genitor-urinary infections

Aging

Overweight and water retention

Osteoporosis prevention
Dosage 
We recommend taking 1 sachet daily for 3 month treatment cycles at least Take the contents of one sachet preferably 30 minutes before meals. To help nocturnal sleep, we recommend taking Profem™ 30 minutes before the evening meal. Dissolve the sachet contents in half a glass of water at room temperature, mix thoroughly and drink immediately.
Most Common Combinations 
Profem™ + COLOSTRO NONI Menopausal symptoms characterized by strong bowel dysfunction
Profem™ + VIT FORMULA™ Menopausal symptoms characterized by vitamin and/or mineral deficiency
Profem™ + GUNAMINO FORMULA Menopausal syndrome accompanied by weight gain and loss of muscle tone
Profem™ + GUNABASIC Adjuvant treatment of osteoporosis 
Ingredients
Fructo-oligosaccharides (FOS); Fructose; Soy extract (standardized to min. 10% isoflavones); baked apple aroma; Green tea extract (standardized to min. 50% polyphenols); Pueraria lobata root extract (standardized to min. 40% isoflavones); Acidifier: citric acid: Microencapsulated probiotics: Bifidobacterium lactis BS01 (LGM P-21384)), Lacto bacillus acidophilus LA02 (DSM 21717), Lactobacillus paracasei LPC00 (LGM P-21380), Lactobacillus plantarum LP02 (LGM P-21020), Lactobacillus rhamnosus LR06 (DSM 21981), Lactoba cillus salivarius LS03 (DSM 22776); Sweetener: sucralose; Red clover extract (standardized to min. 8% isoflavones); Melatonin. Sweetener: sorbitol.
Warnings
The expiry date refers to a product correctly stored, in its original undamaged packaging. Do not use if pregnant. Do not exceed the RDA. Keep out of the reach of children under 3 years of age. Food supplements should not be used as a substitute for a varied and balanced diet and a healthy lifestyle. It contains soy derivatives.
Further Information
For the mental and physical wellbeing of menopausal women
Menopause is characterized by a physiological change of woman's hormonal balance. However, this phase could entail several disorders1:
Hot flushes:
In 80% of women, they arise in the period before and after menopause and are characterized by face and chest flushes with a prevalence in the evening hours.
Neuro psychical symptoms: 
Mood alterations, insomnia, irritability, memory disorders. 
Alterations and aging of the skin and skin appendages:
Loss of skin turgor, elasticity, hydration and brightness. Skin becomes thinner and more sensitive to harmful external agents. Hair is less shiny and strong.
Altered calcium metabolism:
Alteration of the balance between osteoblast and osteoclast activity.
Uro genital disorders:
Vaginal dryness, higher sensitivity to bacterial and fungal infections, vulvar itching and dyspareunia.
Gastro intestinal disorders: 
Changes in gut flora, slowed intestinal transit with swelling, bloating, digestive disorders, malabsorption.
Changes in fat and carbohydrate metabolism: 
Weight gain and water retention.
6 "gastro protected microencapsulated" probiotic strains Innovative association of:
Selected isoflavones for a total of 76 mg per sachet

Melatonin

Green tea

Tested Sc FOS