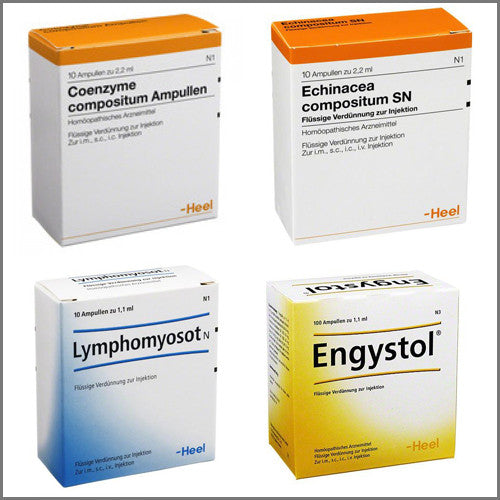 Traumeel
Immune System Booster - Human Ampoules Pack
£108.99 £121.09
The "Elixir" for the Immune System - a combination of remedies which are essential to the body's "Greatest Defense System"; the immune system. Now available in a fabulous ready-made Package.
This package is what we recommend for humans and animals for a Greater Immune System, from the average male or female, to competitive athletes, and competitive animals (such as racing greyhounds & horses etc). 
The remedies recommended in this package are aimed at increasing the body's immune system, which therefore increase it's performance, and avoids the risk of the following common ailments:-
Allergies 

Food Allergies

Skin Allergies
Infections 
Weak Kidney's
Weak Bladder
Weak Lungs / Chest
Breathing Problems
Sinus Problems
Digestive Problems
Stomach Problems
Colds & Flus
Stomach Bugs
By BOOSTING the immune system, the body is made stronger and far more robust and able to cope with the list of ailments as shown above.
The Small Ampoules Pack
1 Box of 10 Engystol N Ampoules, 1.1ml

1 Box of 10 Coenzyme Compositum Ampoules, 2.2ml
1 Box of 10 Echinacea Compositum Ampoules, 2.2ml
1 Box of 10 Lymphomyosot Ampoules, 1.1ml