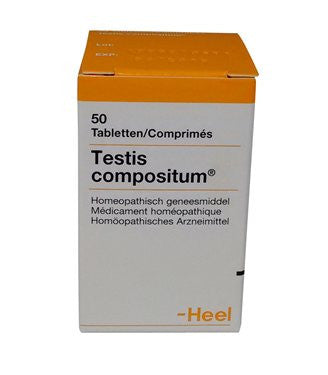 Heel
Testis Compositum - Tablets
£24.30
Indications: Stimulation of organ functions in cases of dystrophia adiposogenitalis (among males), ejaculatio praecox, impotentia virilis, nocturnal enuresis, dystrophia musculorum progressiva.
Exhaustion, induratio penis plastica, osteomalacia (among males), diabetes mellitus and in other various metabolic disturbances, damaged liver. Stimulation of the regressive vicariation.
Dosage: Adults and children above 6 years: 1 tablet sublingually or dissolved completely in mouth 3 times daily, or as directed by a physician. Infants and children to 6 years: 1/2 the adult dosage.
Compositium:

Each Tablet Contains: Testis suis D4, Embryo suis D8, Glandula suprarenalis suis D13, Kalium picrinicum D6, Panax ginseng D4, Turnera diffusa D8, Caladium seguinum D6, Cor suis D8, Cortiso-num aceticum D13, Vitex agnus-castus D6, Selenium D10, Lytta vesicatoria D8, Conium maculatum D28, Lycopodium clavatum D28, Phosphorus D8, Diencephalon suis D10, Magnesium phos­phoricum D10, Ferrum phosphoricum D10, Zincum metallicum D10, Acidum ascorbicum D6 1 mg each.