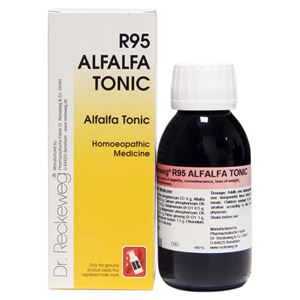 Reckeweg
Dr. Reckeweg R95 Alfalfa Tonic
£30.56
Indications: In conditions of anaemia, loss of appetite, convalescence, specially after debilitating fevers or surgical operations, pregnancy, loss of weight and in growing children. 
Alzheimer's disease; anorexia nervosa asthenia/depression; dementia, Crohn's, Mononucleosis; tuberculosis, Growing pains/delayed growth
Dosage: Adults one tablespoon, children one teaspoonful 3 times daily before meals.
Ingredients: Acidum phosphoricum D2, Avena sativa 0, Calcium phosphoricum D3, China 0, Cinnamomnum 0, Ginseng 0, Hydrastis 0, Magnesium phosphoricum D3, Medicago sativa 0, Nux vomica D3, Ethanol.