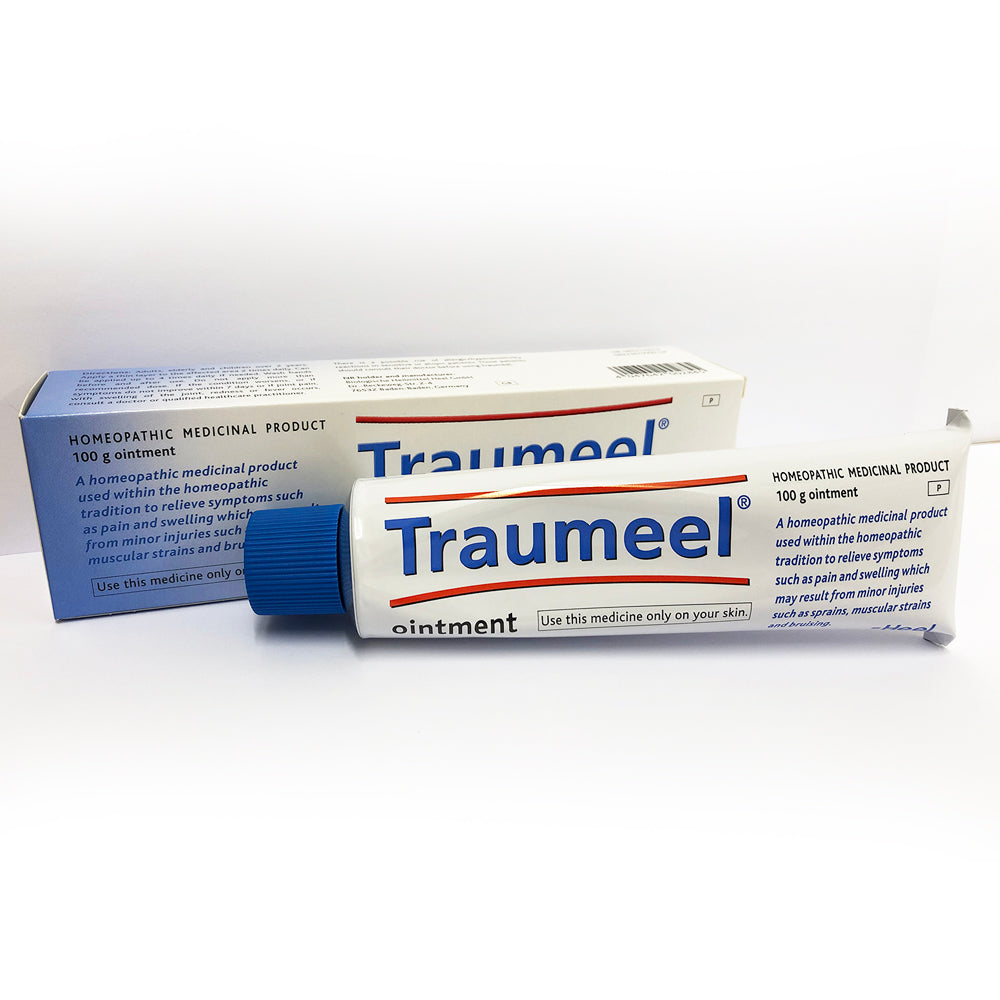 Traumeel
Traumeel S Ointment
£11.20 £208.90
Indications:
Injuries of all kinds (sports, accidents) such as sprains, dislocations, contusions, effusions of blood and effusions into a joint, fractures, etc; inflammatory processes and degenerative processes associated with inflammation on the various organs and tissues (e.g. periodontitis, suppuration of the gingival pockets, periodontosis), including, in particular, on the support and mobility apparatus (tendovaginitis, bursitis, scapulohumeral periarthritis), arthrosis of the hip, knee and small joints.
Use Traumeel Ointment for:-
- Abscesses

- After any trauma or shock

- Arthritis bursitis

- Concussion

- Dermatitis

- Dislocations

- Herpes blisters

- Inflamed swollen joints

- ligament injuries

- Muscle strains and cramps

- Over-use injuries

- Skin Irritations

- Strains

- Sunburn

- Swelling and bruising of soft tissues

- Tendonitis
Dosage: 
Ointment: Apply to the affected parts and rub in, morning and evening, or if necessary, more often, possibly also applying an ointment dressing.

Composition: 
Ointment: 100 g cont.: Arnica montana D3 1.5 g; Calendula officinalis Ø, Hamamelis virginiana Ø 0.45g each; Echinacea angustifolia Ø, Echinacea purpurea Ø, Chamomilla recutita Ø 0.15 g each; Symphytum officinale D4, Bellis perennis Ø 0.1g each; Hypericum perforatum D6, Achillea millefolium Ø 0.09 g each; Aconitum napellus D1, Atropa belladonna D1 0.05 g each; Mercurius solubilis Hahnemanni D6 0.04 g; Hepar sulfuris D6 0.025 g.
Ointment base: Hydrophilic ointment, preserved with 12.5 vol.-% ethanol.
Note: this product - Traumeel / Traumeel S is the original formulation - manufactured in Germany. It is not "T-Relief".