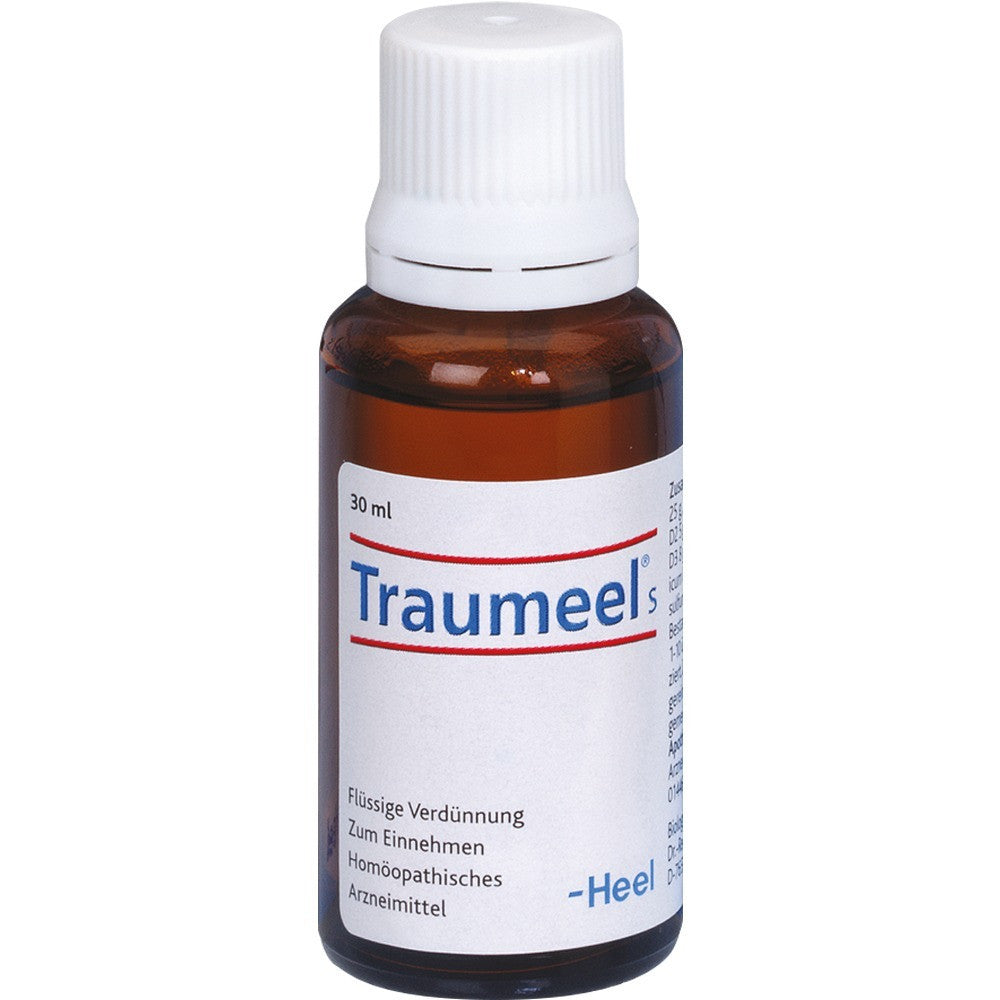 Traumeel
Traumeel S - Drops
£13.63 £136.30
Indications: Injuries such as sprains, dislocations, contusions, effusions of blood and effusions into a joint, fractures; post-operative and post- traumatic oedema and swelling of the soft tissues; inflammatory processes and degenerative processes associated with inflammation on the various organs and tissues, including, in particular, on the support and mobility apparatus (tendovaginitis, styloiditis, epicondylitis, bursitis, scapulohumeral periarthritis, ect.); arthrosis of the hip, knee and small joints; commotio cerebri acuta.
Directions: It is important to remember that inflammation means healing. If we break down the inflammatory response (acute, repair, maturation),it makes sense that inflammation needs to be controlled but not entirely suppressed.
Traumeel achieves all this, unlike NSAID's which just suppress inflammation and can produce direct as well as remote side effects.
Dosage:
The dosage will depend on the severity of the injury.
For humans – In general 10 drops 3 times a day until symptoms reduce.
For swelling of the soft tissues 30 drops 3 times daily.
For horses – 20-30 drops 3 times a day.
For foals – 15-20 drops 3 times a day.
Composition: 
Drops: 100 g cont.: Arnica montana D2, Calendula officinalis D2, Hamamelis virginiana D2, Achillea millefolium D3 5 g each; Atropa belladonna D4 25 g; Aconitum napellus D3, Mercurius solubilis Hahnemanni D8, Hepar sulfuris D8 10 g each; Chamomilla recutita D3, Symphytum officinale D8 8g each; Bellis perennis D2, Echinacea angustifolia D2, Echinacea purpurea D2 2 g each; Hypericum perforatum D2 1 g. Contains 35 vol.-% alcohol.

Note: this product - Traumeel / Traumeel S is the original formulation - manufactured in Germany. It is not "T-Relief".
Further Notes: 
Traumeel S stimulates the healing of wounds, fractures, dislocations, contusions, haematomas, myocardial weakness, neuralgia, myalgia, analgesic, haemostatic. It works on slowly healing wounds, and is an analgesic.
Anti-inflammatory; stimulates granulation, promotes healing in difficulty healing wounds and ulcers; fistulae, haemorrhoids, mastitis, intertrigo, aphthous stomatitis, conditions of restlessness and excitation, disorders of dentition, otitis media, glandular swellings.