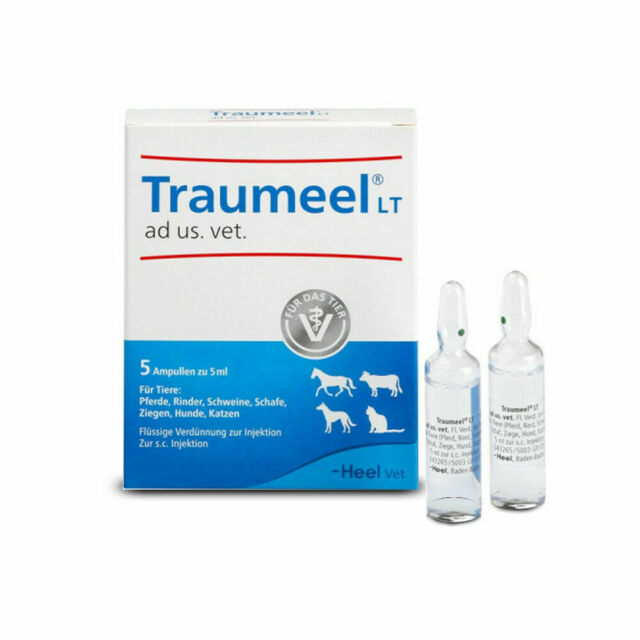 Traumeel
Traumeel S Ampoules - Large, 5ml, 5 Amps
£23.76
Traumeel S Ampoules - the large, 5ml vials - otherwise known as "Traumeel LT ad us. vet."
* Traumeel 5ml Ampoules come in boxes of 5 Ampoules and 50 Ampoules *
Indications for Traumeel Ampoules:
Injuries such as sprains, dislocations, contusions, effusions of blood and effusions into a joint, fractures; post-operative and post- traumatic oedema and swelling of the soft tissues.
Inflammatory processes and degenerative processes associated with inflammation on the various organs and tissues, including, in particular, on the support and mobility apparatus (tendovaginitis, styloiditis, epicondylitis, bursitis, scapulohumeral periarthritis, ect.); arthrosis of the hip, knee and small joints; commotio cerebri acuta.

Also recommended for: swelling, bruising of soft tissues & muscles.
Local injuries, including sprains, strains, swollen joints and inflamed areas.
Tender areas, mosquito bites, ear infections, skin irritations, herpes blisters, inflammatory issues and much more. 
Directions:
Normal dosage is 1 ampoule every 3 days.
In acute disorders 1 - 2 ampoules daily  and repeat if necessary.
Break the vial/ampoule at the marker, and tap into a glass of water. To be taken with water over 15-20 minutes. Outside of food - 10-15 minutes.
Composition:
1 ampoule of 5 ml contains: Aconitum napel- lus D4 300 mg; Arnica montana D4 500 mg; Atropa belladonna D4 500 mg; Bellis perennis D4 250 mg; Calendula officinalis D4 500 mg; Chamomilla recutita D5 500 mg; Echinacea angustifolia D4 125 mg; Echinacea purpurea e planta tota D4 125 mg; Hamamelis virginiana D4 50 mg; Hypericum perforatum D4 150 mg; Achillea millefo- lium D5 500 mg; Symphytum officinale D8 500 mg; Hepar sulfuris D6 500 mg; Mercu- rius solubilis Hahnemanni D8 250 mg.