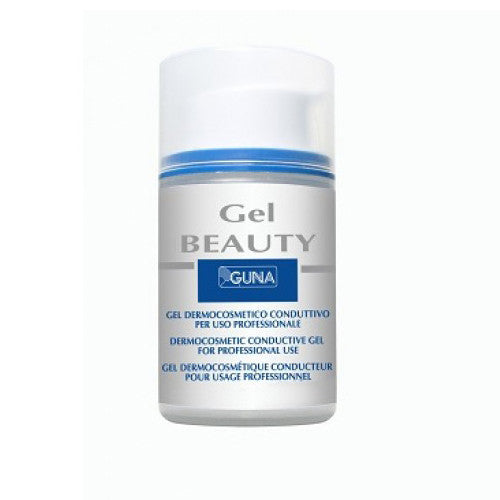 Guna
Guna Gel Beauty - 50ml
£20.46
Uses:
Gel Beauty is a product for topical use. The ingredients contained in its special new formulation are suitable for the following:
Skin Aging
Skin Toning Up
Anti-Wrinkles
Skin Bleaching /Skin  Whitening
Skin Moisturizing
Gel Beauty is a basic component for any individual cosmetic treatment. Its special formulation improves the aesthetic results from the very early treatments.
It is a DERMOCOSMETIC GEL that can be used along with other Guna Ampoule products.
IT IMPROVES THE ABSORPTION OF THESE INTO THE DEEPEST LAYERS OF THE SKIN
Directions:
One dose of Gel Beauty, i.e. 1 ml approximately, can be used with 1 or more ampoules: mix them gently and then apply this cocktail to the area to be treated
Keep the product in cool and dry place and protected from light.
For external use only. Avoid contact with eyes. In case of contact with eyes, rinse immediately with plenty of water for 2-3 minutes
Package Size:
50 ml bottle with "Airless" system, 1,7 fl. oz.
Most Common Combinations:
Gel Beauty c + Guna Made
Gel Beautry + Guna Collagen
Gel Beautry + Omeoformula 1 
Gel Beautry + Omeoformula 2 
Gel Beautry + Omeoformula 3 
Gel Beautry + Omeoformula 4 
More Information:
Gel beauty containing natural active ingredients to be used as a base for aesthetic treatments with magnetophorssis (Gunaphoresis device) ionophoresis, iontophoresis, electroporation, ultrasound devices etc
Gel Beauty does not induce any thermal effect and promotes the spread of the signals emitted by the other remedies and devices used.
Its active ingredients have an anti-aging, antioxidant and tonic action.
The "airless" pumping system of the new bottles allows the gel to be kept in a nitrogen environment without coming into contact with external air:
The gel is not contaminated by the external environment
A better microbiological stability is guaranteed as it is preservative-free.
If the gel is correctly stored its organoleptic characteristics remain unchanged.
The pumping system is extremely accurate and avoids any product waste.
Ingredients:
Aqua/Water/Eau, Propylene Glycol, Malpighia Glabra Fruit Extract, Xylitylglucoside,Anhydroxylitol, Xylitol, Glycerin, Capryloyl Glycine, Arginine, Lysine, Hydroxypropyl Methylcellulose, Human Oligopeptide-20, Sodium Chloride, Collagen, Pueraria Lobata Root Extract, Ethylhexylglycerin, Panthenol