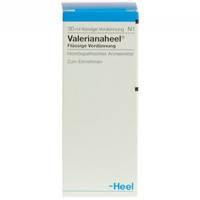 Heel
Valerianaheel - Drops
£13.67
Indications:
As a relaxant /sedative in conditions of restlessness; neurasthenia. For insomnia and can be taken with Nervoheel. Nervousness and agitation.
Special note:
Calms without influencing the safety in traffic, etc.
Dosage:
In general, 15 drops 3 times daily; in the evening 25 drops. 
Single dose for infants and young children: 3 drops; from the age of 2 to 6 years: 5 drops; from 6 to 12 years: 10 drops.
Package sizes:
Drop bottles containing 100 ml.
Composition:
100 g cont.: Valeriana Ø 65 g; Lupulus Ø, Crataegus Ø, Hypericum D 1 5 g each; Melissa Ø 3 g; Chamomilla Ø, Avena sativa Ø 2 g each; Acidum picrinicum D 5 10 g; Kalium bromatum D 1, Ammonium bromatum D 1, Natrium bromatum D 1 1 g each. Contains 60 vol.-% alcohol.