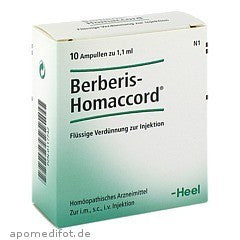 Heel
Berberis-Homaccord - Ampoules
£16.64
Indications:
Inflammation and irritation (with or without concretions) in the region of the urogenital tract and the biliary duct.
Composition:
Solution: 1.1 ml cont.: Berberis D 4, Berberis D 10, Berberis D 30, Berberis D 200. 4.4 µl each; Colocynthis D 4, Colocynthis D 10, Colocynthis D 30, Colocynthis D 200, Veratrum D 5, Veratrum D 10, Veratrum D 30, Veratrum D 200 3.3 µl each.
More information:
Based on the individual homoeopathic constituents of Berberis-Homaccord, therapeutic possibilities result for the treatment of irritative andinflammatory conditions in the urogenital tract and bile ducts, nephrolithiasis, renal colic. 
Also in cystitis, cystopyelitis and biliary calculus as alternating remedy. In particular, also for stress with pain in the region of the kidneys, especially on the left side (disorders on the right side point, rather, to Albumoheel S); gouty diathesis and rheumatism (chronic). 
Berberis-Homaccord is also a frequently needed intermediate remedy in the most varied phases, including, for example, reaction phases, strain of the defensive system, therapeutical damage. 
Berberis-Homaccord also acts as a powerful stimulant of the function of cortex of the suprarenal gland and is therefore indicated also in neoplasm phases in support of the functions of the cortex of the suprarenal gland which are becoming increasingly exhausted.