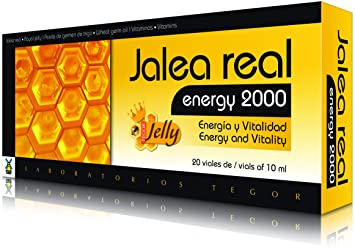 Tegor
Tegor Jalea Real Energy 2000
£18.85
Indications: Providing nutrients and vitamins to maintain the balance of the organism, with Royal jelly, Vitamin C, B2, B1, and B6.
"Royal jelly" is the food that bees make for their queen. It is a source of vitamins, minerals and amino-acids, among other nutrients, which assure a great vitality to the queen. It is energising and stimulating of the central nervous system, increases the resistance to cold and fatigue, provides vitality and longevity. It delays skin ageing and provides moisturisation. Its actions on the cardiovascular (low arterial tension, it reduces cholesterol) and endocrine system form part of the multiple qualities of this exceptional food. 
Dosage: 1 vial daily at breakfast, or as advised by a professional. 
Composition
Royal jelly 1,500mg, Wheatgerm oil 200mg, Vitamin C 80mg, Vitamin B6 1.4mg, Vitamin B2 1.4mg, Vitamin B1 1.1mg.