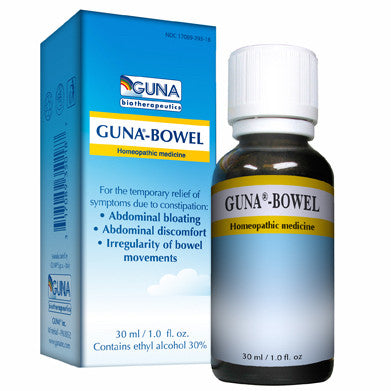 Guna
Guna Bowel - Drops
£16.42
Uses:
Acute and chronic constipation as well as spastic and atonic constipation, regulator of the intestinal function, detoxification of the digestive system, coadjuvant in the degenerative pathologies of the digestive canal.
Directions: 
10 drops 3 times a day. In case of constipation: 10 drops every 30 minutes for 2/3 hours.
Most Common Combinations:
Guna-Bowel + Eubioflor: intestinal dysbiosis.
Guna-Bowel + Guna-Liver: digestive disorders; persistent constipation.
Guna-Bowel + Guna-Digest + Anti Age Stress: irritable colon syndrome.
Guna-Bowel + Guna-Flam: IBD (Inflammatory Bowel Diseases).
Guna-Bowel + Guna-Hemorrhoids: hemorrhoids.
Ingredients:
Aloe socotrina 2X, Alumina 6X/8X, Bryonia alba 6X/8X, Carduus marianus 2X, Chelidonium majus 2X, Cholecalciferol 2X, Collinsonia canadensis 2X, Colon, Porcine 6X/12X/30X, Kali carbonicum 6X/8X/12X, Natrum carbonicum 6X/8X/12X, Niacin 2X, Nux vomica 6X/8X, Pantothenic acid 2X, Rectum, Porcine 6X/12X/30X, Rhamnus frangula 2X, Rheum 2X, Skatolum 6X/10X, Taraxacum officinale 2X, Thiaminum hydrochloricum 4X