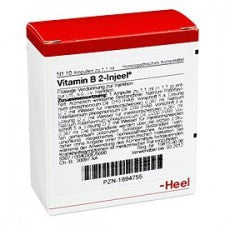 Heel
Vitamin B2 Injeel - Ampoules
£16.64
Vitamin B2-Injeel acts as coenzyme factor in the metabolism.
Vitamin B2 helps break down proteins, fats, and carbohydrates. It plays a vital role in maintaining the body's energy supply. Riboflavin helps convert carbohydrates into adenosine triphosphate (ATP). The human body produces ATP from food, and ATP produces energy as the body requires it
vitamin B is essential for:
Maintaining the mucous membranes in the digestive system
Maintaining a healthy liver
Converting tryptophan into niacin, an amino acid
Keeping the eyes, nerves, muscles and skin healthy
Absorbing and activating iron,

 

folic acid, and vitamins B1, B3 and B6
Hormone production by the adrenal glands
Preventing the development of

 

cataracts
Fetal development, especially in areas where vitamin deficiency is common
Some research suggests that vitamin B2 may help prevent cataracts and migraine headache, but further studies are needed to confirm this.
Compositum: D10, D30, D200 0.367 ml each.