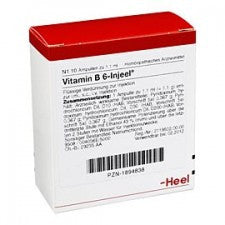 Heel
Vitamin B6 Injeel Ampoules
£16.64
Indications: Vitamin B6-Injeel acts as coenzyme factor in the metabolism.
Vitamin B-6, also known as pyridoxine, assists enzyme reactions in protein and red blood cell metabolism. Vitamin B6 aids in blood glucose regulation by helping convert stored nutrients into energy the body can use. This helps increase metabolism. Vitamin B-6 also increases thyroid activity, which increases resting metabolic rate. In amounts near or slightly above the recommended daily allowance, vitamin B-6 can increase energy, support immune system function and improve memory.
Composition: D10, D30, D200 0.367 ml each.