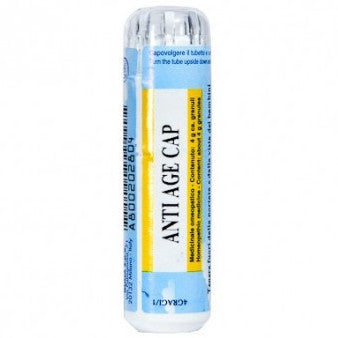 Guna
Guna Anti Age Cap / Hair - Granules
£19.75
Indications: Aggression of any origin against hair and scalp
This preparation is designed to help protect the hair in iatrogenic risk situations. It is also used as a tonic in the event of excessively frequent or aggressive shampooing and frequent sea bathing.
It is additionally indicated in the event of metabolic disorders associated with stress and abuse of alcohol, coffee and cigarettes. In these cases, ANTI-AGE CAP provides thorough detoxification which allows the formation of a favourable terrain for regrowth of the hair. 
Standard Dose: 3 granules morning and evening, at least 15 minutes before meals.
Package size: Tube containing 4 gr. of granules  
Composition:
Hamamelis D3, Buxus 5CH, Cornus Sanguinaria D3, Sorbus Domestica D3, Ananassa Sativa D3, Secale cereale D1, Rosmarinus D1, Oleum Jecoriis Aselli D4, 12 Schüssler salts D10, Dopamine 5CH, Cutis 5CH, Vasa lymphatica 5CH, Plexus Carotideus Suis 5CH, Hypophysis Suis 5CH, Silicea 4CH, Thallium Metallicum 4CH, Rhus Tox 5CH, Luffa Operculata D6 and Nux Vomica 7CH.