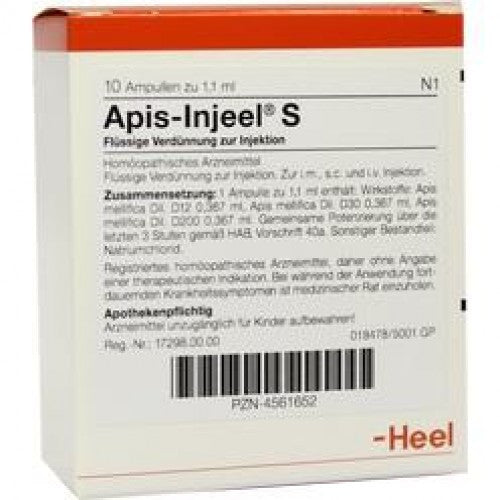 Heel
Apis Injeel
£16.64
Indications: Oedema, pustular and bullous eczema, cerebral sensitivity.
Contraindications: Solution: Hypersensitivity to bee venom.
Side effects: None known.
Interactions with other medication: None known.
Dosage: 
Solution: In acute disorders daily, otherwise 1 ampoule 3-1 times weekly
Composition:  Solution: 1.1g cont.: Apis mellifica D4, Apis mellifica D10, Apis mellifica D30, Apis mellifica D200, Apis mellifica D1000 1.1 μl each; Apisinum D8, Apisinum D30, Scilla D4, Scilla D10, Scilla D30 2.75 μl each; Kalium stibyltartaricum D4, Kalium stibyltartaricum D10, Kalium stibyltartaricum D30, Kalium stibyltartaricum D200 4.4 μl each.