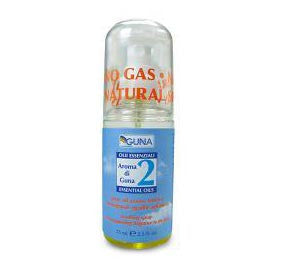 Guna
Aroma Di Guna Spray (Air Cleaner + Insect Repellent Spray)
£21.86
Indications:
Use as a preventative against pest infestations, e.g. mosquitoes, midge bites and other insect bites.
Also recommended to use indoors -- useful for cleansing the air and protecting the airways from noxious agents in rooms, especially during the winter season.
Its formulation has been achieved so as to preserve the entire antiseptic, bacteriostatic and stimulating properties of the oils it contains.
Recommended at home, to cleanse the air made dry and unhealthy by heating systems; in the workplace, to facilitate concentration and well-being; in the motor car and in traffic, to alleviate the discomfort deriving from exposure to high levels of air pollution; in any interior, to avoid irritation due to exposure to dust or cold and damp climates.
COMPOSITION:
Cetearyl isononanoate, Lavandula angustifolia Oil, Melissa officinalis Oil, Pelargonium capitatum Extract, Citral, Limonene, Parfum, Melia azadirachta Seed Oil, Mentha piperita Oil, Zanthoxylum alatum Extract, Oleyl Alcohol, Citronellol, Geranoil, Linalook