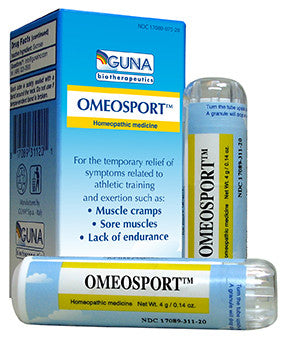 Guna
Guna Omeosport Granules / Biocyclic Granules
£32.16
Guna Biocylic Plus Granules / Omeosport Granules.
Omeosport is a unique formulation for cellular energy metabolism. It helps athletic performance and reduce recovery time.
"After using Omeosport, I am having great results (...) I am pushing hard, recovery is excellent" says International Triathlon Competitor, and Ironman, Roger Girard
Uses:
Metabolic stimulation of muscle fiber cell; ATP synthesis improvement; Anaerobic threshold elevation; Reduction of lactic acidosis; and muscle fatigue control.
Omeosport improves energy metabolism, giving more "mileage" for your fuel. The rapidly dissolving pellets are absorbed through the mucous membranes in the mouth and go to the cellular level speeding up energy producing pathways.
Omeosport increases endurance, reduces recovery time, reduces muscle fatigue, soreness, and cramps. The low dose dilution makes it safe for competitions too.
Directions:
3 pellets 2-3 times a day. During training period 3 pellets are recommended 30 minutes before training.
* Can also be taken during sport - e.g. 3 pellets during a marathon, long run etc. 
Most common combinations:
Omeosport + Guna MD Muscle: stimulation of muscle fiber cell; sport medicine.
Omeosport + Guna-Matrix + Guna-Liver: liver drainage in patients suffering from serious lactic acidosis.
Omeosport + Guna-Cell: strengthening of the cell energy metabolism. 
Ingredients: alpha-Ketoglutaricum acidum 6X, alpha-Lipoicum acidum 6X, Adenosintriphosphate 8X, Ascorbic acid 4X, Barium oxalsuccinate 6X, Beta vulgaris 2X, Cerium oxalicum 6X, Cis-Aconitic acid 6X, Coenzyme a 6X, Cysteinum 6X, Embryo suis 6X, Fumaricum acidum 6X, Ginseng 3X, Glandula suprarenalis suis 10X, Lacticum acidum 8X, Magnesium gluconate 2X, Malic acid 6X, Manganum phosphoricum 6X, Muscle tissue, Porcine 6X, Natrum oxalaceticum 6X, Natrum pyruvicum 6X, Pyridoxinum hydrochloricum 6X, Riboflavinum 6X, Succinicum acidum 6X, Thiaminum hydrochloricum 4X,
 Omeosport Reviews from Athletes & Ironman + Video
"Last year, at Ironman Lake Placid, I had severe leg cramps 10 km before the end of the marathon. I struggle to finish. I put 25 pellets in a water bottle on the bike and take some during the run.
Since then, at Ironman Wisconsin (Sept 2013), Kona 2013, this year at IM Placid, and at all my half ironman, I drink a water bottle + Omeosport and take at each 5 km on the run 5-10 pellets. It works! No more leg cramps!"
— Roger Girard, Ironman
A few weeks ago Bernard Tourigny, pro-athlete, competed in the Ironman 70.3 in Syracuse. He had an amazing finish and received 5th place out of 151 in his age group! It was a close race with only 3 minutes separating him from the leaders! Omeosport helped him push his hardest. "I still felt good near the end of the race & had enough energy to keep going. No doubt that OMEOSPORT is the reason. On such a warm day, I was glad that OMEOSPORT kept me from experiencing cramps!! And recuperation went well, another good reason for using OMEOSPORT every day. I was able to go back to training on the following day!"
— Bernard Tourigny, Ironman
"At the beginning of July, I started to take GUNA-Cell and Omeosport, 2x/day. Almost immediately, I felt an optimal and faster recovery after intense and prolonged effort that my daily workouts required. In my last 5 races, I have not experienced cramps (usually over a 2 hour race, I have to deal with cramps). In the end, results speak for themselves, since I started the #GUNA protocol, I won 5 races in 3 weeks (3 triathlon sprint & 2 half ironman). I got to the starting line of each competition always in full strength, although the commitments were very close in time and in spite of the challenging workouts between events."
— Alberto Casadei, Italian Triathlete