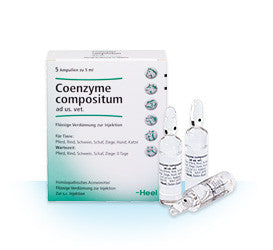 Heel
Coenzyme Compositum - Ampoules 5ml
£25.55
Indications:
Stimulation of blocked enzymatic systems in degenerative diseases as well as in defective enzymatic functions (cellular phases)
Directions: 
5ml Ampoules in boxes of 5 and 50.
Composition: 
Solution: 2.2 ml cont.: Coenzymum A D8, Acidum ascorbicum D6, Thiaminum hydrochloricum D6, Natrium ribroflavinum phosphoricum D6, Pyridoxinum hydrochloricum D6, Nicotinamidum D6 3 ml; Acidum cis-aconiticum D8, Acidum citricum D8, Acidum fumaricum D8, Acidum alpha-ketoglutaricum D8, Acidum DL- malicum D8, Acidum succinicum D8, Barium oxalsuccinicum D10, Natrium diethyloxalaceticum D6, Natrium pyruvicum D8, Cysteinum D6, Pulsatilla pratensis D6, Hepar sulfuris D10, Sulfur D10, Adenosinum triphosphoricum D10, Nadidum D8, Manganum phosphoricum D6, Magnesium oroticum D6, Cerium oxalicum D8, Acidum alpha-liponicum D6, Beta vulgaris conditiva D4 22 μl each.