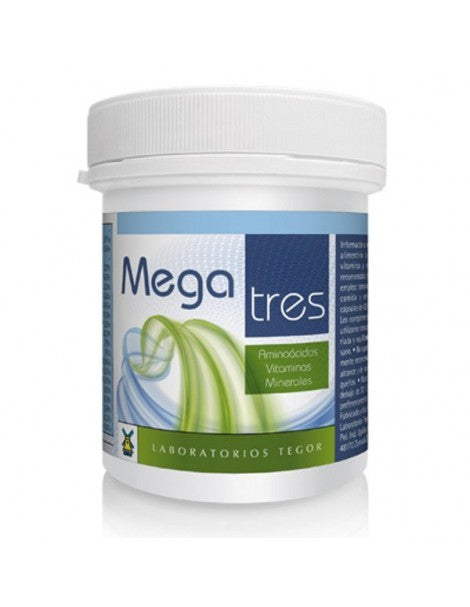 Tegor
Megatres - 90 Capsules
£16.41
Indications: Supplement with vitamins, minerals and amino acids to use in deficiency states caused by an inadequate diet and in all those situations in which there is poor absorption, a loss of nutrients or a greater requirement of nutrients.
Gluten free, sugar free or lactose free.
Dosage: 1 capsule with breakfast, lunch and dinner.
Composition:
Megatres provides per dose (3 capsules): L-methionine 57 mg. L-glutamine 57 mg. Vitamin C (L-ascorbic acid) 57 mg. L-lysine 48 mg. L-proline 48 mg. L-arginine 48 mg. L-phenylalanine 48 mg. L-glutamic acid 48 mg. L-taurine 48 mg. L-tyrosine 48 mg. L-cysteine ​​48 mg. L-leucine 33 mg. L-valine 33 mg. L-isoleucine 33 mg. L-threonine 24 mg. L-serine 24 mg. L-histidine 24 mg. L-glycine 12 mg. L-alanine 12 mg. L-aspartic acid 12 mg. Vitamin B5 (D-calcium pantothenate) 12 mg. Vitamin B3 (nicotinamide) 12 mg. Vitamin E (D-alpha-tocopherol) 9 mg. Magnesium (magnesium citrate) 8.16 mg. Choline bitartrate 6 mg. Inositol 6 mg. Vitamin B6 (pyridoxine hydrochloride) 6 mg. Vitamin B2 (riboflavin) 4.8 mg. Vitamin B1 (thiamine hydrochloride) 4.2 mg. Silicon (silicon dioxide) 3.01 mg. Calcium (calcium citrate) 2.89 mg. Zinc (zinc citrate) 0.68 mg. Manganese (manganese gluconate) 0.46 mg. Iron (iron gluconate) 0.36 mg. Folic acid (pteroylmonoglutamic acid) 200 µg. Biotin (D-biotin) 51 µg. Molybdenum (ammonium molybdate) 20.92 µg. Vitamin A (retinyl acetate) 20.7 µg. Vitamin D (cholecalciferol) 7.5 µg. Chromium (chromium picolinate) 6.33 µg. Vitamin B12 (cyanocobalamin) 3 µg. Selenium (L-seleniomethionine) 0.25 µg. Additives, qs