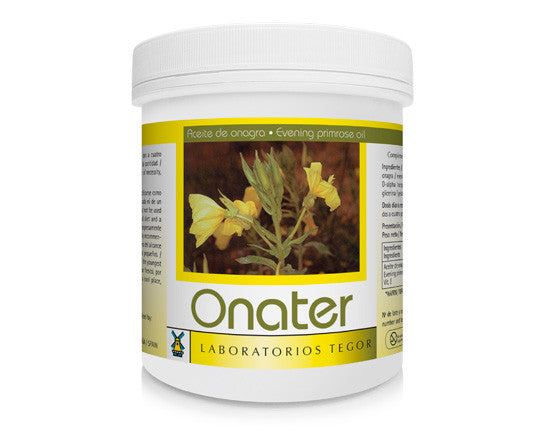 Tegor
Tegor Onater
£12.83
Indications: 
The association of evening primrose oil with vitamin E is particularly indicated in menstrual cycle problems. In addition, it helps to maintain the smoothness and elasticity of the skin, fighting skin aging.
Evening primrose oil is very rich in polyunsaturated essential fatty acids: linoleic acid (70%) and gamma-linolenic acid (10%), both from the series of omega 6 acids,These fatty acids are important precursors of various cellular mediators that are essential for the proper functioning and stability of the membranes of the cells of our body, the development of the nervous and hormonal systems and the regulation of coagulation processes.

They give rise to eicosanoids such as prostaglandins, thromboxanes, leukotrienes and hydroxy acids, compounds that regulate various biological processes throughout our lives. It also contains a lower proportion of oleic acid (monounsaturated fatty acid).
Properties and benefits of evening primrose oil:
Regularizes anomalies (deficit) of essential fatty acids.
alleviates symptoms of eczema
Improves prostate disorders in man.
reduces cholesterol levels without causing side effects, reducing the progression of atherosclerosis.
Stops problems arthritis and osteoarthritis since it inhibits the inflammatory processes.
Improves the response of the defense or immune system
Eliminates dryness in the mucous membranes of the eyes and mouth.
Balances behavior in hyperactive children.
Regulates the release and action of neurotransmitters from the nervous system.
Improves acne, dandruff, brittle nails and hair loss hair related.
Relieves symptoms of premenstrual syndrome (breast pain, mood, irritability, headache and fluid retention) thanks to prostaglandins.
Relieves symptoms of menopause (fluid retention, hot flashes, dry mucous membranes, etc.)
Prevents skin aging, hydrating the skin and promoting its elasticity. It is used in capsules to beautify the skin from within.
It is used in high - risk individuals and reducing cardiovascular hypertension arteriañ by vasodilatation and prevents the formation of thrombi or clots (prevent aggregation or adhesion of platelets that form clots)
Dosage: Take 2-4 pearls a day. In case of necessity double the quantity.
Composition:
Oenothera biennis (evening primrose oil), 500 mg Vitamin E, 10 mg; excipients, csp