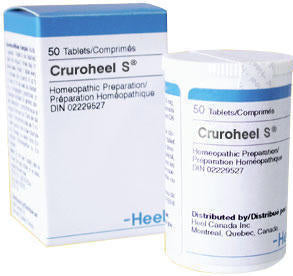 Skin
Cruroheel S - Tablets
£7.95
Indications:
For bad skin, acne, fistular suppurations, ulcus cruris. 
Contraindications: None known. 
Interactions with other medication: None known. 
Dosage: In general, 1 tablet to be dissolved under the tongue 3 times daily.  
In acute disorders, initially 1 tablet every 15 minutes, over a period lasting up to two hours.
Composition: 1 tablet cont.: Mercurius praecipitatus ruber D 8, Apis mellifica D 4, Lycopodium D 4, Acidum silicicum D 6 30 mg each; Hamamelis D 4, Carbo vegetabilis D 8, Pulsatilla D 6 60 mg each.