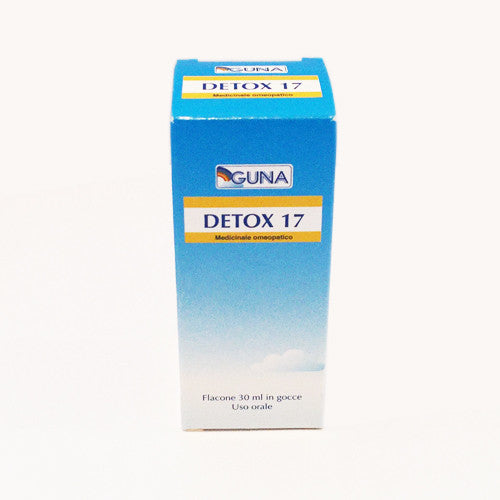 Guna
Guna Detox 17 (Stress) - Drops
£21.86
Indications: As a co-adjuvant in situations of stress, both chronic and acute. Detox No. 17 is useful in the treatment of nervous exhaustion.

Other indications: Nervous dyspepsia, detoxification therapy (or weaning), disorders from jet lag, exam stress for students, pre- and post-partum, children's sleep disorders (nightmares), during Pre-menstrual Syndrome (PMS) and the menopause.
Dosage: 10 drops, 4 times a day (also applicable to sensitive patients).
Remarks: Recent studies have shown that emotional stress has a direct effect on the functioning of the immune system, the endocrine system and the associated meridians. Over time, these functional differences may lead to other organic symptoms.

Psychotherapy and remedies such as Detox No. 17 and Detox No. 7 (Hormonal feed-back) could be an effective method for reducing the damage caused by emotional stress.
Composition: Acidum phosphoricum D4, Avena sativa D2, Chamomilla D6, Escholtzia D2, Ficus carica gemmae D1, Humulus Lupulus D3, Ignatia D6, Kalium phosphoricum D9, Melissa D6, Passiflora incarnata D2, Tilia tomentosa gemmae D1, Valeriana D2