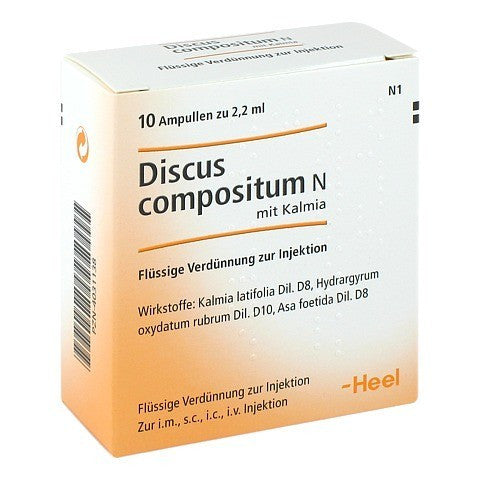 Heel
Discus Compositum N mit Kalmia - Ampoules.
£41.98
Discus Compositum N mit Kalmia - Ampoules.
Indications:
Affections of the joints and connective tissue (eg, arthritis, arthrosis, periarthritis, affections of the tendons and ligaments, of the periosteum and connective tissue of the vessles); (post-syphilitic) affections of the heart; chronic dermatosis.
Neuralgic/rheumatic disorders in the region of the vertebral column. Stimulation of the endogenic defence reactions and influencing of the homotoxic terrain in osteochondrosis, disorders of the joints - chronic arthritis and arthrosis.
Discogenic disease with and without radicular symptoms. Osteochondrosis (Scheuermann's disease), chronic joint disorders such as arthritis and arthritis, neuralgic disorders related to the vertebral column. 
Note: Discus Compositum was renamed by Heel, and is now called "Discus Compositum N mit Kalmia"
Composition: 2.2ml containing: Discus intervertebralis suis D8, Acidum ascorbicum D6, Thiaminum hydrochloricum D6, Natrium riboflavinum phosphoricum D6, Pyridoxinum hydrochloricum D6, Nicotinamidum D6, Funiculus umbilicalis suis D10, Cartilago suis D8, Medulla ossis suis D10, Embryo totalis suis D10, Glandula suprarenalis suis D10, Pulsatilla pratensis D6, Hydrargyrum oxdatumrubrum D10, Sulfur D28, Cimicifuga racemosa D4, Ledum palustre D4, Pseudognaphalium obtusigolium D3, Citrullus colocynthis D4, Secale cornutum D6, Argentum metallicum D10, Zincum metallicum D10, Cuprum aceticum D6, Aesculus hippocastanum D6, Ranunculus bulbosus D4, Ammonium chloratum D8, Cinchoma pubescens D4, Kalium carbonicum 6, Sepia officinalis D10, Acidum picrinicum D6, Berberis vulgaris D4, Calcium phosphoricum D10, Nadidum D6, Coenzyme A D10, Acidum Silicicum D4, Acidum thiocticum D8, Natrium diethyloxalaceticum D6 22mg Each