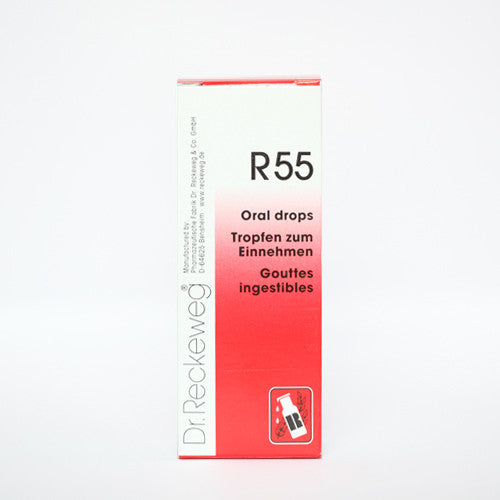 Reckeweg
Dr. Reckeweg R55 - Drops, 50ml (All Types of Injuries)
£22.41
Indications: Injuries of all types, fracture, subluxation, sprain, concussion of brain, wounds caused by fire-arms or sharp weapons, involving bleeding. May be used as a complementary remedy in feverish infections, sepsis, and in general on account of its stimulating effect on the defensive energy of the organism. The present remedy also covers excesses in sports, overstrain e.g. labourers carrying heavy weights (heart strain), and rheumatism occurring where old injuries have been sustained.
Dosage: In acute injuries every 10 minutes 10-15 drops in a little water or undiluted.
In fracture, take, the first day every 1/4 hour, the second day every 1/2 hour, the third day every hour, 15 drops. Then 3-6 times daily 10-15 drops, possibly before meals.
In influenza and cardiac complaints (caused by overstrain) use this remedy alternatively with other remedies according to the degree of gravity, every 1/4-1/2 hour.
Ingredients: Arnica D3, Belladonna D4, Calendula D3, Echinacea angust. D3, Hamamelis D4, Rhus Tox. D6, Ruta D6, Symphytum D6, Ethanol, Aqua pur.