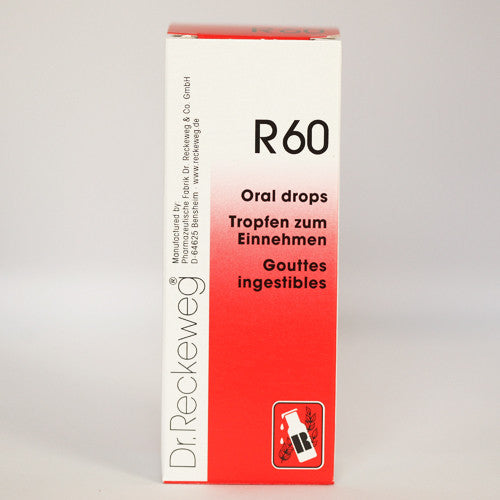 Reckeweg
Dr. Reckeweg R60 - Drops, 50 ml (Blood Purifier)
£22.41
Indications: Impurities of the blood, unclean skin (e. g. pimples), swelling of lymph glands, blood purifying remedy.
General improvement of the humoral composition i.e. of the blood and other vital fluids needed in all circumstances of illness and more so in protracted illnesses.
Dosage: 5 to 15 drops taken 2 or 3 times daily in water before meals.
Drops given according to age.
In chronic cases, 1 or 2 times daily.
Ingredients: Aranea Diad. D12, Conium D30, Fumaria officinalis D6, Hepar sulfur. D12, Galium Apar. D12, Juglans D6, Myosotis arvensis D6, Sarsaparilla D6, Scrophularia nod. D6, Ethanol, Aqua pur.