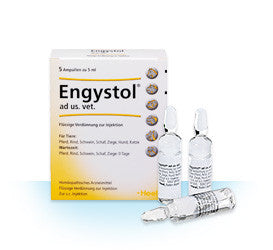 Heel
Engystol N - Ampoules 5ml
£25.55
Indications: Stimulation of the body's defenses with vascular and sympathetic effect, in viral dis- eases with fever, e. g. bovine respiratory disease, swine influenca, distemper (initial), Herpes-virus-infection, Parvovirus-infection, cat flu, general change of reactivity in skin diseases, eczemas, pruritus, external otitis.
Dosage: Solution: In acute disorders 1 ampoule daily, otherwise 3-1 times weekly  
Contraindications: None known.
Side effects: None known.
Interaction with other medications: None known.
Waiting period: None.
Composition: Engystol ad us. vet. Solution: 1 ampoule of 5.0 ml contains: Vincetoxicum hirundinaria D6 0.03 ml; Vincetoxicum hirundinaria D10 0.03 ml; Vincetoxicum hirun- dinaria D30 0.03 ml; Cinis vincetoxici D30 0.005 ml; Sulfur D10 0.015 ml; Sulfur D4 0.015 ml.