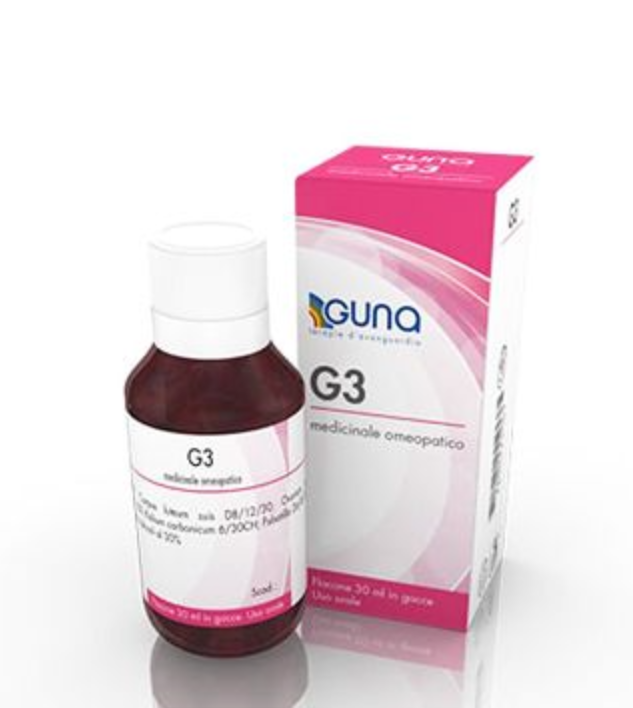 Guna
Guna G3 - Drops
£20.08
Indications: Functional menarche disorders, functional disorders of the puberal phase. 
Amenorrhea secondary to stress, unsuitable diet, excessive sporting activities. 
For regulating ovulation in women with polycystic ovary syndrome. 
Menstrual disorders due to GnRh deficiency.
Adjuvant in the treatment of female acne.
Hypertrichosis in ovarian microcystosis.
Dosage: Begin with 5 drops twice a day, then increase by 1 drop a day up to 10 drops three times a day.
More Information:-
G 3 components are two organ preparations and two classic homeopathic remedies (a basic remedy and a constitutional remedy).
Ovarium and Corpus Luteum, administered together, play a fundamental part in regulating pituitary gland - ovarian feedback with no side effects of contraindications.

The combination of Ovarium + Corpus Luteum can be described as a graduated, potentized estrogen-progestin association (Ovarium contains infinitely small doses of estrogens and progesterone and Corpus Luteum contains infinitely small doses of progesterone) which is indicated in all conditions of ovarian hypofunction and functional dysregulation.

Pulsatilla is the remedy for the typical female biotype women of childbearing age with a cyclothymic nature who are emotionally unstable and "like to be cuddled".
The emotional characteristics of the Pulsatilla woman are due to the alternating function of the hypothalamus, which also affects the pituitary function: in these patients, FSH and LH often suffer from receptor and quantitative disorder.
Pulsatilla is a remedy in the phospho-tuberculinic series, and the phosphorus constitution is often revealed by a neurovegetative imbalance because of the prevalence of the CNS, the sympathetic nervous system and the adrenal medullary function.
Composition: Ovarium D8/D12/D30, Corpus luteum D8/D12/D30, Pulsatilla D6/D8/D30, Kalium carbonicum 6CH/30CH.