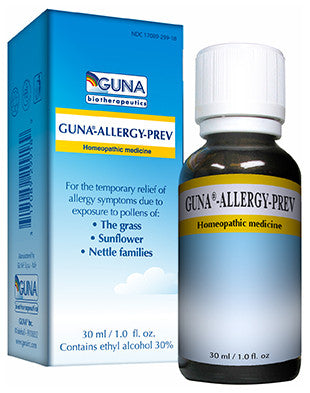 Guna
Guna Allergy Prev - Drops
£20.08
Uses: 

Treatment of the allergic terrain and pre-seasonal therapy for allergy prevention and a basic treatment for atopic eczema, allergic rhinitis, and bronchial asthma.
Directions: 
10 drops 3 times a day for at least 2 months.
Most Common Combinations:
Guna-Allergy-Prev + Guna-Matrix: preventive treatment of allergies, particularly indicated for patients previously treated with corticosteroids and/or antihistamines.
Guna-Allergy-Prev + Guna-Allergy-Treat: allergic rhino-conjunctivitis and asthma.
Guna-Allergy-Prev + Citomix: preventative treatment of allergies in patients affected by immune deficiencies.
Guna-Allergy-Prev + Eubioflor: food allergies.
Ingredients: 
Ambrosia artemisiaefolia 18X, Arundo mauritanica 18X, Asclepias vincetoxicum 6X/10X/30X Black currant, Bark 1X, Citricum acidum 6X, Histaminum hydrochloricum 12X/ 30X/200X, Inter-feron gamma 4C, Interleukin 12 4C, Manganese gluconate 4X, Natrum pyruvicum 6X, Natrum sulphuricum 12X/30X/200X, Parietaria officinalis 18X, Phleum pratense 18X, Serum anguillae 12X/30X/200X, Succinicum acidum 6X, Sulphur 12X/30X/200X, Urtica urens 18X, Viburnum opulus T, Wyethia helenioides 18X