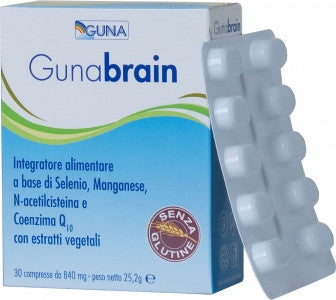 Guna
Guna Brain - Tablets
£24.92 £623.00
Indications:
Gunabrain, the synergic action of 6 active ingredients for a better mental efficiency
From the most recent scientific research studies, a NEW GENERATION OF EFFECTIVE, SAFE AND HIGH-COMPLIANCE FOOD SUPPLEMENTS has been emerging from the field of "BRAIN BOOSTER".
Slows down the physiological processes of brain ageing.

Boosts memory and cognitive capacities.

Helps a quick recovery of mental efficiency.

Slows down the development of neurological diseases.

Fights against free radicals in the brain and in the blood vessels.
It is an innovative and unique formulation where the synergism and the complementary action of its ingredients have been specifically designed to: 
Prevent early or moderately advanced-stage

physiological cognitive impairment.

Improve

memory

,

concentration

ed

attention

quickly in cases of intensive mental activity: intensive study, work, mental fatigue.

Help recover the

brain function

in case of tia outcomes,by improving the arterial microcirculation.

Protect from the

oxidative damage

that causes the cns cell aging.
For more detailed product information, please take a look at this dedicated PDF document on Guna Brain:
Click Here.
Recommended Dosage and How To Use:
In cases of:
intensive mental fatigue

intensive study

intensive work

emotional stress
Adults: 2 tablets daily
Children under 12 years of age: 1 tablet daily
In cases of:


cognitive impairment

TIA outcomes

Alzheimer's disease

Parkinson's disease
Dosage: 2 or more tablets daily directed by your healthcare professional
We recommend taking the tablets with half a glass of water between meals.
Guna Omega - Tonico Guna - Guna Basic
Ingredients:
N-acetylcysteine, bulking agent: microcrystalline cellulose; green tea (Camellia sinensis L. Kuntze) leaves d.e. std. 98% polyphenols (40% EGCG), Withania (Withania somnifera L. Dunal) root d.e., bulking agent: calcium phosphate; anti-caking agent: cross-linked sodium carboxymethylcellulose; coenzyme Q10, anti-caking agent: vegetable stearic acid; coating agent: hydroxypropylmethylcellulose; manganese carbonate, selenium-methionine, stabilizer: polyvinylpolypyrrolidone; anti-caking agent: silicon dioxide; colours: titanium dioxide, chlorofilline-copper complex.