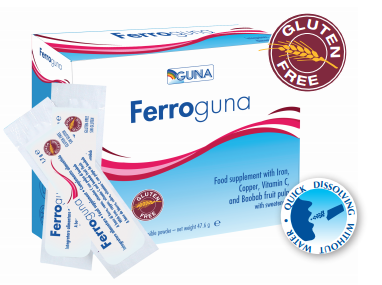 Guna
Guna Ferroguna
£24.92
Ferroguna
Balanced and optimal solution against iron deficiency
Why Ferroguna
Iron deficiency is the most common mineral deficiency in the human species. It mainly affects women, particularly 20 to 30% of fertile female population. Children, teen-agers and the elderly are also at high risk of deficiency.
Why Ferroguna
The daily Nutrient Reference Values (NRV) of iron, which must be taken in highly absorbable form for the body (ferrous form, Fe2+), vary according to age and physiological conditions: ranging from 5 mg/day in early childhood up to 14 mg/day in adulthood, until reaching 27 mg/day during pregnancy. 1-2
Due the presence of one or more risk factors, as a result of increased loss or increased need, the daily intake and absorption of iron may be insufficient, creating organic deficit conditions which may result in: 
Anaemia
Sense of exhaustion
Chronic fatigue
Reduced concentration
Headache
Insomnia
Pale skin
Muscle disorders
Appearance of small ulcers in the corners of the mouth
Burning sensation in the tongue and altered taste
Frail hair and nails
Ferroguna promotes the production of hemoglobin, and RED BLOOD CELLS FORMATION by providing 100% of the daily Iron needs in highly absorbable form because: 
- it is conveyed in an organic complex (iron fumarate)
- it is in orodispersible form, that is immediately bio available to the body
 The bio availability of Iron is further improved by the presence of Copper, Vitamin C and the Baobab fruit pulp. These do not only improve iron absorption and its transport in the organism, but at the same time also provide elements with antioxidant and protective properties.
Ferroguna is an optimal iron supplementation in pregnancy, being fully compatible with specific levels of Daily Nutrient Reference Values1 .Ferroguna melts directly in the mouth without water and is rapidly absorbed. Its high palatability and tolerability do not induce any side effects in the gastrointestinal system.
Dosage for Ferroguna / How To Use:
OPTIMAL SUPPORT IN CASES OF:
Dosage
For increase iron need- eg:-

Post-partum period:/Breastfeeding /Growth / Aging / Sports activity:-

1 sachet daily meets daily iron needs.
Pregnancy -

 Daily intake of 1 or 2 sachets is allowed, with no side effects.
Ferroguna formulation is fully compatible with the specific NRV (Nutrient Reference Values).

For reduced Intestinal Absorption - eg.
Dietary deficiencies, intestinal disorders that compromise iron absorption (especially celiac disease).
Increased physiological blood loss: heavy menstrual bleeding or pathological blood loss: gastritis and gastro-duodenal ulcer, gastrointestinal disorders.
Dosage
1 to 2 sachets

of orodispersible granules daily, according to medical advice
Ferroguna can be taken uninterruptedly for long periods.
How to Take it:-
Dissolve the content of one sachet directly in the mouth, without water.
OPTIMAL SUPPORT IN CASES OF
Most Common Combinations:
Ferroguna + Gunamino Formula Iron deficiency anaemia with low hemoglobin values.
Ferroguna + Colostro Noni Iron deficiency secondary to malabsorption sysdromes
Ferroguna + Vit Formula Iron deficiency anaemia along with vitamin deficiency
INGREDIENTS
Sweetener: sorbitol (from corn), Baobab (Adansonia digitata L.) fruit pulp, maltodextrins, iron fumarate, L-ascorbic acid (vitamin C), acidity regulator: citric acid, natural flavouring, anti-caking agent: silicon dioxide, sweetener: sucralose, copper citrate.
WARNINGS
Store the product in a cool and dry place and protect from light. The expiry date refers to a product correctly stored in its original and undamaged packaging. Do not exceed the stated recommended daily dose. Keep out of the reach of young children. Excessive consumption may produce laxative effects. Food supplements should not be used as a substitute for a varied diet and a healthy lifestyle.
Further Information
THE INGREDIENTS OF Ferroguna
IRON FUMARATE
1 sachet of Ferroguna contains average 14 mg of iron Fumarate in ionic ferrous form with a bioavailability of 30-35%, the highest one compared to other sources (bioavailability of 5-20%): 1 sachet of Ferroguna releases in the blood about 5 mg of iron available for absorption, thus meeting the average daily needs of the organism.3-4
VITAMIN C (Ascorbic Acid)
1 sachet of Ferroguna provides a well-balanced amount of Vitamin C necessary for iron absorption and utilization. This vitamin is essential for hematopoiesis: it promotes the incorporation of iron into hemoglobin and its transport through transferrin. Several studies confirm that in the presence of Vitamin C iron absorption increases up to 30%. 
COPPER
It is an important cofactor for several enzymes involved in iron metabolism. Its presence is required along with Vitamin C for an optimal iron absorption.6 BAOBAB dried fruit pulp (organic certification, GMO and allergen free) With the innovative pharmaceutical technology used to produce Ferroguna, the herbal healing properties of Baobab are fully preserved. Some studies show that a daily intake of the Baobab fruit pulp:7-8-9-10-11-12
Increases hemoglobin concentration
Improves the iron cellular store
Controlled study on 300 children aged between 6 and 8 years.10 The high content of vitamins, minerals and trace elements of the Baobab fruit pulp helps reducing anaemia, thus significantly increasing iron stores. In addition to this, the Baobab fruit pulp has natural analgesic and anti-inflammatory properties11, promotes intestinal eubiosis and counteracts diarrhea.12