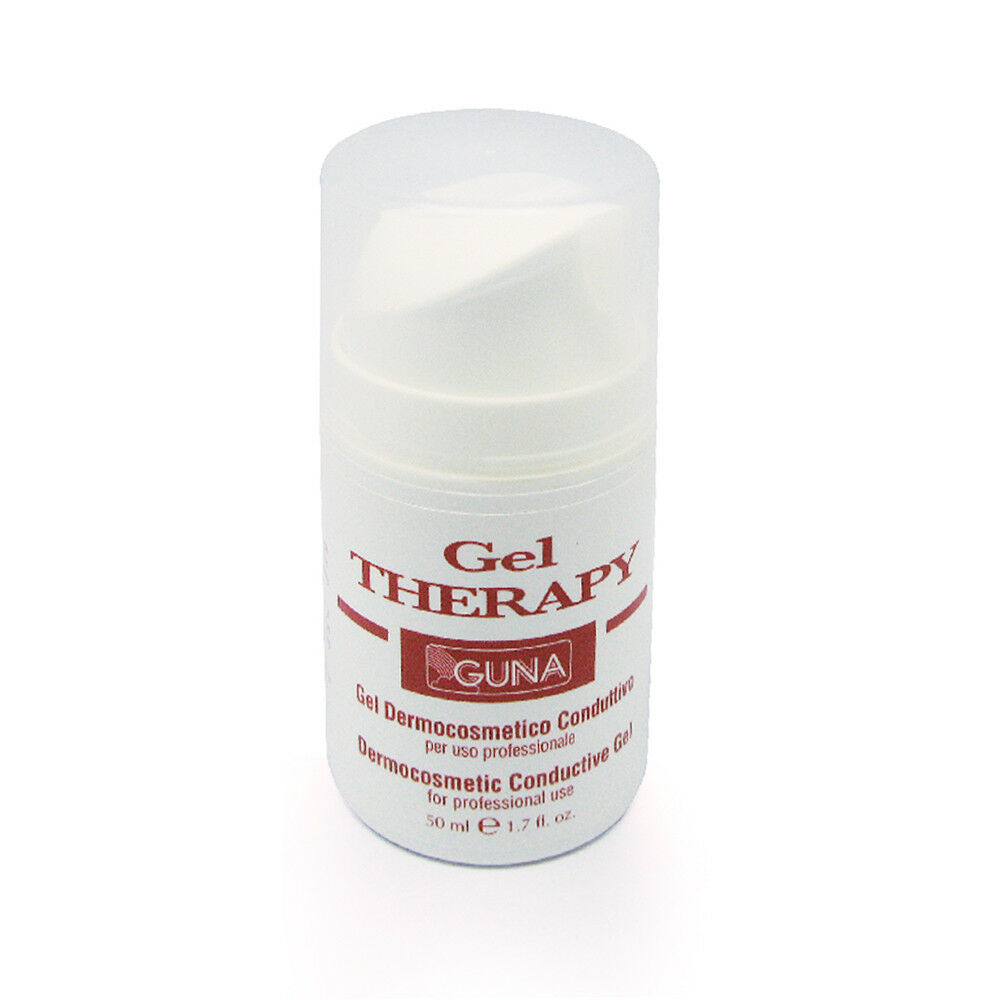 Guna
Guna Gel Therapy - 50ml
£20.46
Description
GEL THERAPY IS A DERMOCOSMETIC GEL THAT CAN BE USED ALONG WITH OTHER GUNA PRODUCTS IN AMPOULES. IT IMPROVES THE ABSORPTION OF THE LATTER INTO THE DEEPEST LAYERS OF THE SKIN.
Gel Therapy has been expressly studied to be used together with various techniques [magnetophoresis (GUNAPHORESIS device), ionophoresis, iontophoresis, electroporation, ultrasound devices, etc]. Its special formulation improves the absorption of Guna products for pain management and skin care (bruises, blows, scars) without from the very early treatments.
Gel Therapy does not induce any thermal effect. It helps to spread the signals emitted by the a.m. devices.
The "airless" pumping system allows the gel to be kept in a nitrogen environment without coming into contact with the external air:
the gel is not contaminated by the external environment;
a better microbiological stability is guaranteed as it is preservative-free;
if the gel is correctly stored, its organoleptic characteristics remain unchanged.
The pumping system is extremely accurate and avoids any product waste.
Gel Therapy can be used alone or mixed with GUNA MD ampoules (MD-Handfoot, MD-Hip, MD-Ischial, MD-Knee, MD-Lumbar, MD-Thoracic, MD-Shoulder, MD-Neck, MD-Neural, MD-Poly and MD-Muscle) for:
Help modulate any kind of pain
have a skin care action
help skin regeneration
Key words:
100% natural composition with Arnica montana Extract, Collagen, plant extracts and minerals
Conductive gel formula
"Airless System"
Preservative-free
How to use
Apply a layer of gel to the desired area and start the application.
One dose of Gel Therapy, i.e., 1 ml approximately, can be used with 1 or more ampoules: mix them gently and then apply this cocktail to the skin.
For external use only. Avoid contact with eyes; in case of contact with eyes, rinse immediately with plenty of water for 2-3 minutes.
Ingredients
Aqua, Propanediol, Glycerin, Alcohol, Capryloyl Glycine, Xylitylglucoside, Arginine, Hydroxyethylcellulose, Anhydroxylitol, Malpighia punicifolia Extract, Arnica montana Extract, Hydrolyzed Collagen, Sodium chloride, Lysine, Xylitol, Ethylhexylglycerin.
Packaging
50 ml / 1,7 fl. oz. bottle with "Airless" system.