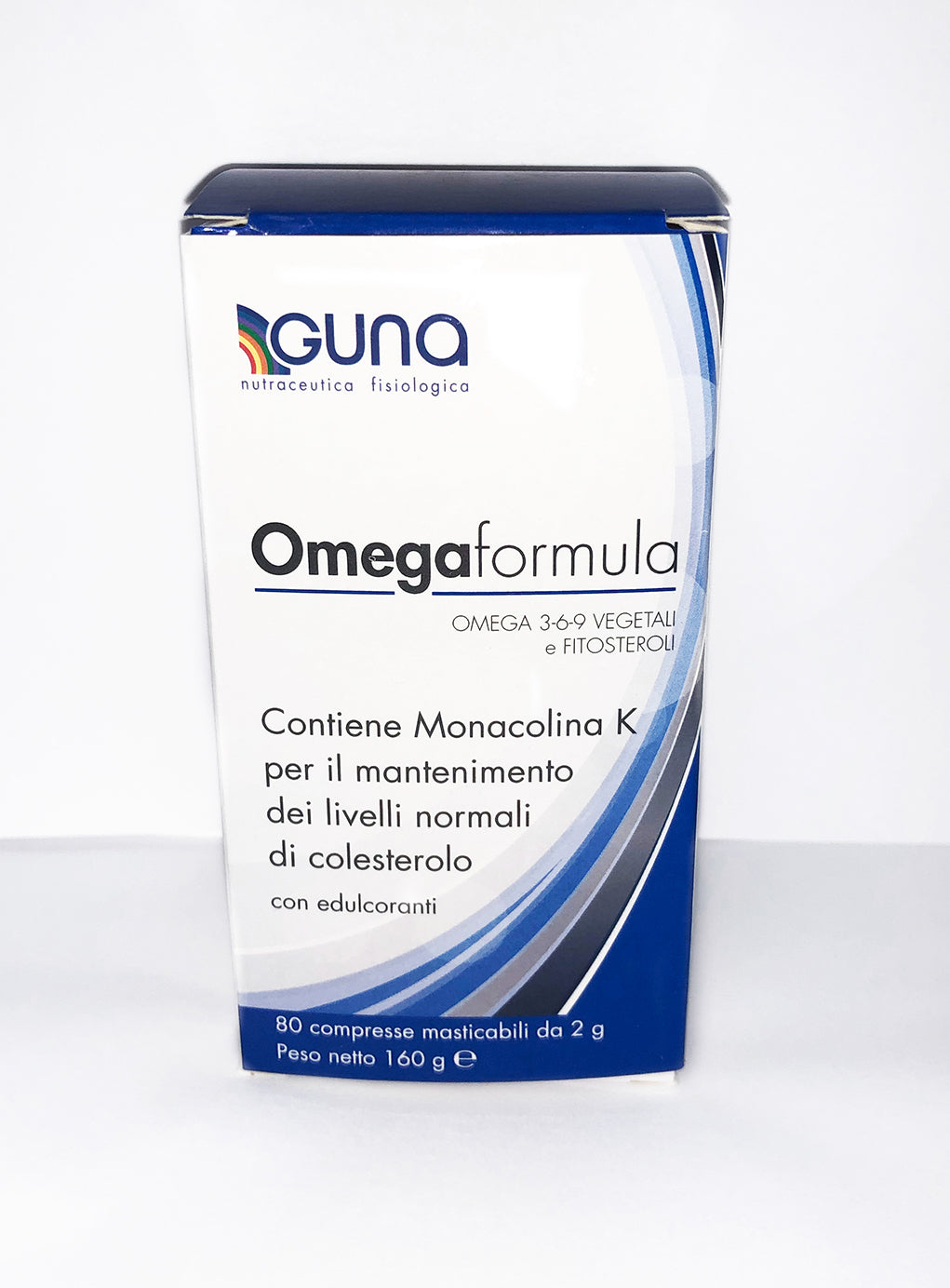 Guna
Guna Omega Formula Tablets
£33.50
Key Word: Protection of the cardiovascular system.
The special formulation of Omega Formula helps protect the cardiovascular system thanks to its active principles synergy, in case of: incorrect life-style, overweight, obesity, tendency to: hypercholesterolemia, hypertriglyceri-demia, hyperhomocysteinemia.
Regular consumption of Omega Formula together with a balance diet and a correct life-style, helps to:
Maintain the appropriate ratio in the levels of LDL/HDL
Normalise the triglycerides blood levels
Balance the homocysteine levels.
With no side effects!
Directions for use: 
Take a chewable tablet 1 to 3 times daily, according to the diet, during or just after meals. To optimize the Omega Formula benefits, it is recommended to intake one chewable tablet daily, during or just after meals.
Packaging: 80 Chewable Tablets
Warnings:
Keep the product cool and dry and protected from light. The best before date refers to properly stored and unopened packages. Do not exceed the recommended daily dose. Keep this product out of reach of children under 3. Food supplements should not be used as a substitute for a varied and balanced diet and a healthy lifestyle. An excessive intake may have laxative effects. Do not use during pregnancy, nursing or in case of lipid-lowering therapy.
NUTRITIONAL FACTS per 3 tablets
Energetic value   15,0 kcal / 62,53 kJ            
Protein (N x 6,25) 0,41g            
Carbohydrate 3,9 g  of which polyols 3,40 g            
Fat 0,35 g                                              
Adansonia digitata 1500 mg              
Seed of which                                    
              Omega 3  5,4 mg            
              Omega 6  89,3 mg            
              Omega 9  86,0 mg            
              Polyphenol 1,5 mg            
              Free sterol 5,1 mg                                                  
Vitamin B6 3mg =  214% RDA
Folate (Folic Acid) 300mcg = 150% RDA                               
Red yeast rice 200 mg of which monacolin 3 mg
Composition:
Adansonia digitata L. (Baobab) micronized seed, maltodextrins, unsweetened cocoa powder (4%), red yeast rice (Monascus purpureus) e.s. Tit. 1.5% in monacolin K, antiagglomerating agents: silicon dioxide, sodium carboxymethylcellulose, vegetal magnesium stearate, flavoring. Sweetener: sorbitol (from corn or wheat), sucralose; pyridoxin hydrochloride (vit B6), pteroyl-glutamic acid (folate).