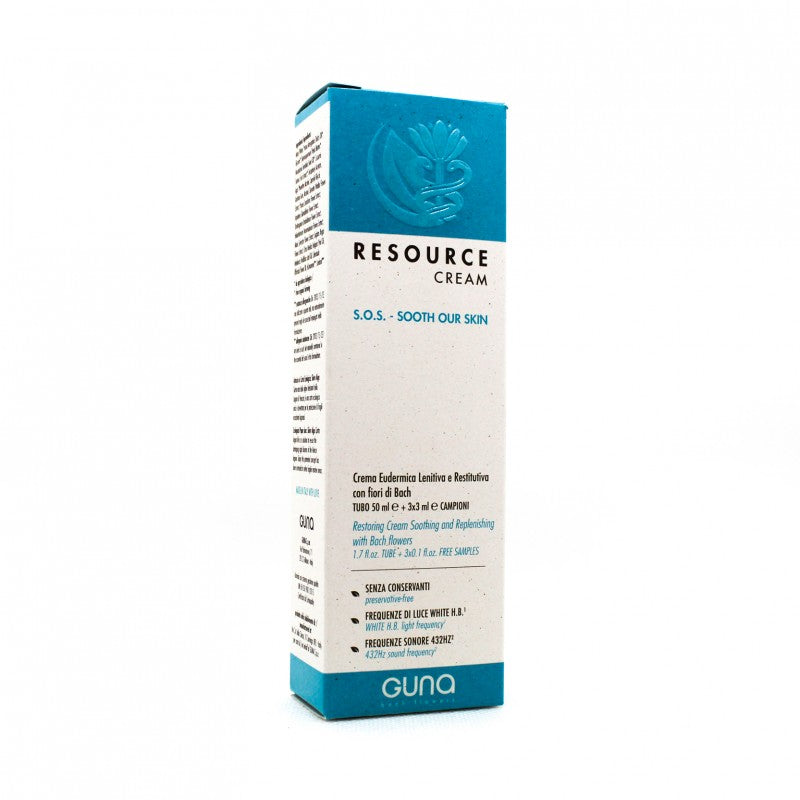 Guna
Guna Resource Cream
£21.29
Restoring, Soothing and Replenishing Cream with flower extracts according to Dr. Bach's original method.
How to use: Apply on the affected areas, or all over the body, with a gentle circular massage.
Packaging: 50ml Tube.
Preservative free
Paraben and lanolin free
Fragrance with natural essential oil of Tea-tree
Nickel tested
Dermatologically tested
Indications:
In all seasons, our skin is exposed to environmental agents (pollution, extreme cold, excessive exposure to sunlight, wind): which worsen dryness, reddening and irritation, while reducing its elasticity.
The alteration of the physiological condition of the skin makes it even more sensitive and exposed to accidental events such as insect bites, minor burns and traumas, etc.
Resource Cream was designed to maintain the physiological function of the skin, counteracting stress and harmful environmental agents.
The nourishing, emollient and soothing properties of its plant ingredients give elasticity and moisture to the skin. Its soft and pleasant texture gives a sense of relief and well-being.
The essential oil of Tea-tree, known for its antibacterial properties, gives it a pleasant and typical fragrance.
The Bach Flowers included in the formulation of the Resource Cream reflect emotional archetypes from which you can take inspiration in order to evoke your own innate resources and adaptability, in order to experience a sense of wellbeing. 
According to Dr. Bach, Cherry Plum in an archetype of self-mastery, Clematis of Presence as well as of Mind-Body connection. Crab Apple of Purity and self-acceptance, Impatiens of Peacefulness, Rock Rose of Courage, Walnut of Sensitiveness and Adaptability, and Star of Bethlehem of Elaboration and Resolution.
Ingredients: Aqua, Caprylic/capric, triglyceride, Glycerin, Cetearyl alcohol, Prunus amygdalus oil, Butyrosepermum parkii butter, Myristyl myristate, Cetyl alcohol, Glyceryl stearate SE, Capryloyl glycine, Cetearyl glucoside, Clematis vitalba flower extract, Prunus cerasifera flower extract, Impatiens glandulifera flower extract, Ornithogalum umbellatum flower extract, Helianthemum nummularium flower extract, Malus sylvestris flower extract, Juglans regia flower extract, Glyceryl caprylate, P-anisic acid, Sodium hydroxide, Calendula officinalis flower extract, Glyceryl undecylenate, Trisodium ethylenediamine disuccinate, Xanthan gum, Melaleuca alternifolia leaf oil, Limonene.