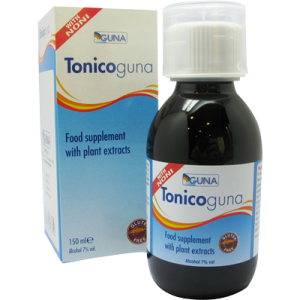 Guna
Guna Tonico Plus
£26.95
Indications:
Guna Tonico is a melting pot of Polynesian and European cultures in the field of phytotherapy.
It is a cutting-edge food supplement with plant extracts formulated to support the body against:
Physical and mental weakness
Fatigue and / mental exhaustion
Guna Tonico contains a variety of plant extracts selected for their well-known fortifying, revitalising and energising properties and helps to treat any general conditions that require increased vitality and energy.
The Morinda citrifolia extract is one of the main ingredients. It is a Polynesian plant more commonly known as Noni. Its 100% pure juice is rich in vitamins, minerals, amino acids, enzymes, trace elements, sterols and xeronin.
The properties of this plat are traditionally known and been confirmed by recent scientific research studies. 
Guna Tonico Guna contains 9 complementary plant extracts that act synergistically to activate the mind-body connection as a whole. This goal can be reached by stimulating the Psycho - Neuro - Endrocine - Immune axis as a whole in gentle and balanced way. All this results in a sensation of generally well-being.
Dosage: 
Take 20 ml per day in a single dose (preferably in the morning) or in two doses (when needed), using the special dosing cap. It may be diluted in a little water.
Bottle size: 150ml with a dosing cap.