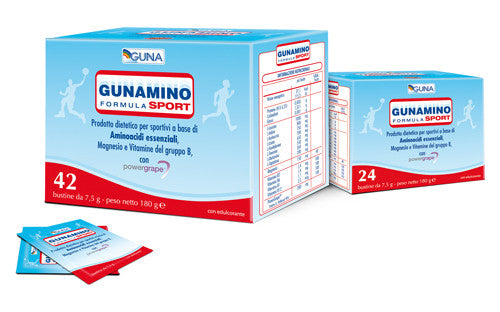 Guna
Gunamino Formula Sport
£74.10
Description:
Gunamino SPORT Formula is a dietary supplement for athletes, with innovative and unique formulation, consisting of 8 essential amino acids, magnesium, B group vitamins, and powergrape®.
The uniqueness of the amino acid mixture of Gunamino Formula SPORT consists in a special proportional ratio between the 8 essential amino acids, the only one that enables their optimal absorption and their maximum utilization through the anabolic pathway.
Consequently, Gunamino Formula SPORT:
is absorbed in a few minutes
does not produce nitrogenous waste and does not overload

 

the kidneys and the liver
provides the highest protein value than any other foods, in a lower weight and volume
The special innovation of Gunamino Formula SPORT is POWERGRAPE®, a special grape extract that, thanks to its strong antioxidant action, enables to:
counteract the free radicals produced during exercise
improve athletic performance and speed up recovery
protect muscles from injuries
The formula also includes Magnesium, which supports the muscle function and is useful in cases of muscle cramps, and B group vitamins, which contribute to energy metabolism.
How to use:
1 - 2 sachets per day, taken before and after exercise.
Dissolve the contents of one sachet in a half-liter bottle of water and mix well.
Pack Options:
24 x 7.5 g sachets 
42 x 7.5 g sachets 
Warnings:
Store the product in a cool, dry place, and protect from light. The expiry date refers to a product stored correctly in its original and undamaged packaging. Keep out of reach of young children. Do not exceed the stated recommended daily dose. Food supplements should not used as a substitute for a varied diet, and a healthy lifestyle. Do not take during pregnancy. Not suitable for children. Do not use for long periods of time and, in any case, without consulting your docto
Ingredients:
Blend of essential amino acids (L-Leucine, L-Valine, L-isoleucine, L-Lysine hydrochloride, L-Phenylalanine, L-Threonine, L-Methionine, L-Tryptophan); maltodextrin, acidity regulator: citric acid; magnesium oxide, Powergrape® (Vitis vinifera fruit d.e.), aroma, emulsifier: sucrose esters of fatty acids; sweetener: sucralose; cyanocobalamin (vitamin B12), riboflavin-5-phosphate sodium (vitamin B2), pyridoxine hydrochloride (vitamin B6), thiamine hydrochloride (vitamin B1).