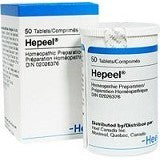 Heel
Hepeel N Tablets
£7.95
Indications:
Primary and secondary functional disorders of the liver; damaged liver.
Contraindications:
Tablets: Hypersensitivity to quinine.
Side effects: None known.
Interactions with other medication: None known.
Dosage:
Tablets: In general, 1 tablet to be dissolved under the tongue 3 times daily.
Composition:
Tablets: 1 tablet cont.: Lycopodium D 3, Chelidonium D 4, China D 3, Nux moschata D 4 30 mg each; Carduus marianus D 2, Phosphorus D 6 15 mg each;Veratrum D 6 60 mg; Colocynthis D 6 90 mg.