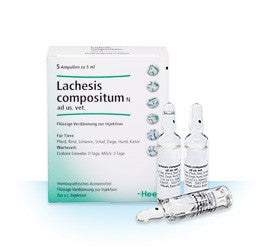 Heel
Lachesis Compositum - Ampoules
£35.36
Indications:
Mastitis-Metritis-Agalactia (MMA) in sows. Puerperal disorders.
Contraindications: None known.
Interaction with other medications: None known. Waiting period: None.
Composition:
1 ampoule of 5.0 ml contains: Lachesis mutus D6 200 mg; Pyrogenium-Nosode D6 200 mg; Juniperus sabina D3 100 mg; Echinacea angustifolia D1 100 mg; Pulsatilla praten- sis D2 50 mg.