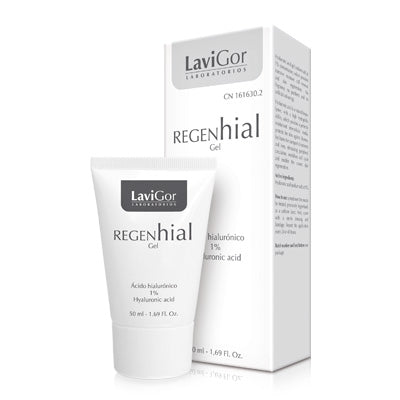 LaviGor
Lavigor Regenhial Gel
£22.49
 Indications: Highly moisturizing, regenerating gel, which provides cellular renewal and calming skin regeneration thanks to its pure hyaluronic acid.
Regenhial Gel de Lavigor highly hydrating, restores the dermis and protects against the action of free radicals and allergens. In addition, as its main benefit, it has a calming effect, which soothes inflammation, itching and pain of skin lesions.
Facial care especially indicated for sensitive, irritated or inflamed skin.
Thanks to its formula enriched with hyaluronic acid, it provides the skin with a reserve reinforcement of this important component, to promote intense hydration, as well as the restoration of the skin and extra protection against the harmful action of free radicals.
Instructions for use:

Apply to a perfectly clean face every 24 or 48 hours; indicated for clinical or personal use.

Composition: Pure hyaluronic acid, aqua, polysorbate 20, sodium hyaluronate, phenoxyethanol, ethylhexylglycerin.