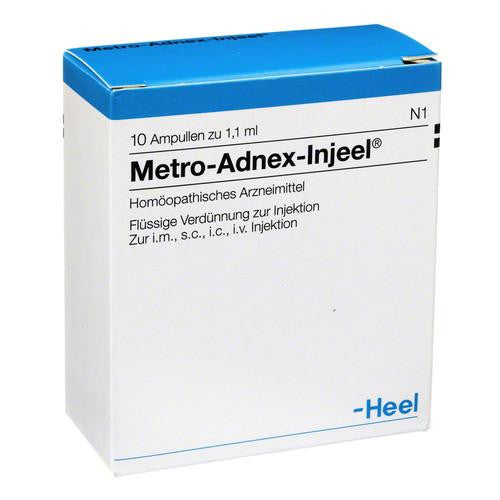 Heel
Metro Adnex Injeel - Ampoules
£16.64
Indications: Adnexitis; parametritis, endometritis; vaginitis; dysmenorrhoea; intermenstrual pain; climacteric neurosis.
Contraindications: None known.

Side effects: In rare cases, increased flow of saliva may occur after taking this medication. If this happens, the therapist should be consulted.
Interactions with other medication: None known.
Dosage: In acute disorders daily, otherwise 3-1 times weekly 1 ampoule 
Composition: 1.1 ml cont.: Apis mellifica D10, Apis mellifica D30, Apis mellifica D200, Lachesis mutus D10, Lachesis mutus D30, Lachesis mutus D200, Lachesis mutus D1000, Lilium tigrinum D10, Lilium tigrinum D30, Lilium tigrinum D200, Lycopodium clavatum D10, Lycopodium clavatum D30, Lycopodium clavatum D200, Lycopodium clavatum D1000, Mercurius sublimatus corrosivus D10, Mercurius sublimatus corrosivus D30, Mercurius sublimatus corrosivus D200 1.1 μl each; Pulsatilla pratensis D10, Pulsatilla pratensis D30, Pulsatilla pratensis D200, Pulsatilla pratensis D1000, Crabro vespa D10, Crabro vespa D30, Crabro vespa D200 1.65 μl each; Cimicifuga racemosa D10, Cimicifuga racemosa D30, Cimicifuga racemosa D200 2.2 μl each.