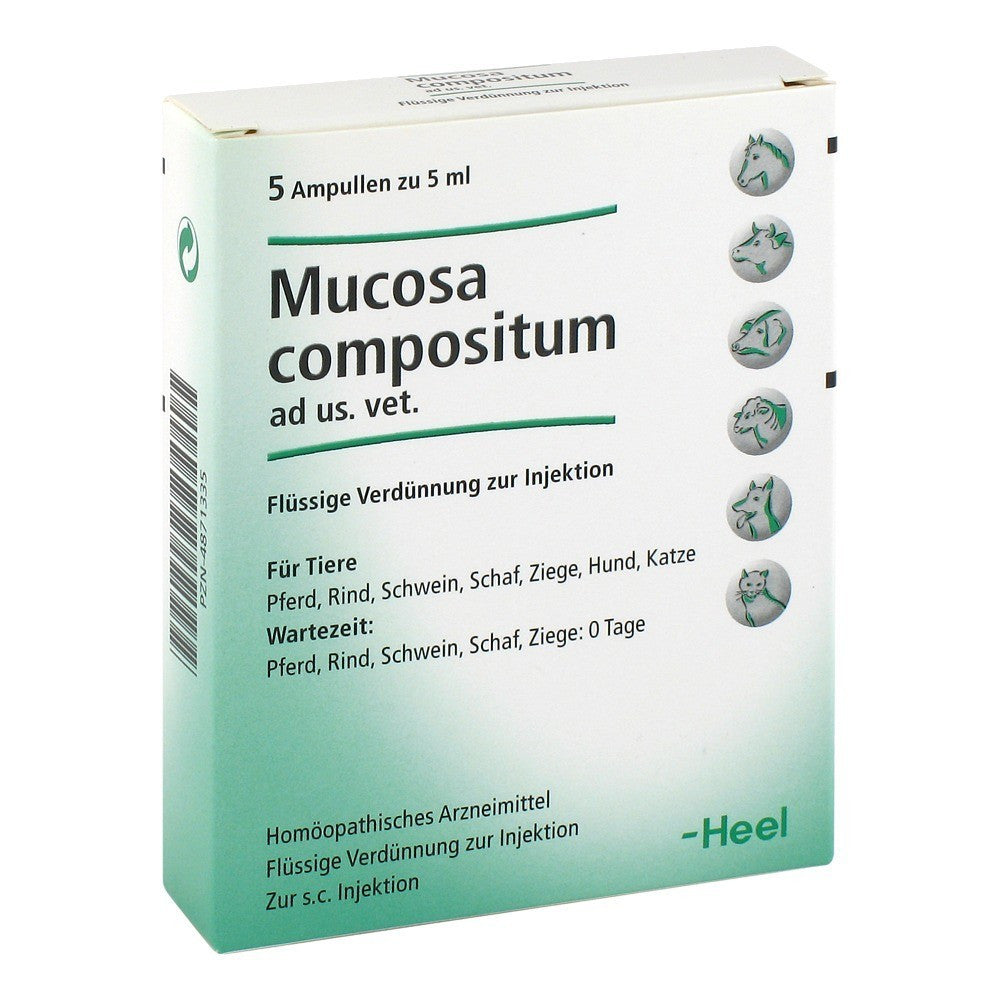 Heel
Mucosa Compositum - Ampoules 5ml
£35.36
Indications: Mucosal disorders and catarrhs of different type and localisation, e. g. in the alimen- tary tract, upper and lower respiratory tract, uriniferous tract, conjunctiva of the eye, panleucopenia, Herpes-rhinovirus-infection, Parvovirus-infection, chronic enteritis, oti- tis, conjunctivitis, endometritis. Supportive to the specific therapy.
Contraindications: None known. 
Side effects: In rare cases, skin reactions may occur. In this case, a therapist should be consulted. 
Interactions with other medication: None known.
Dosage: In acute disorders daily, otherwise 3-1 times weekly 1 ampoule or if necessary
Composition: Mucosa compositum ad us. vet.: 1 ampoule of 5.0 ml contains: Mucosa nasalis suis D8; Mucosa oris suis D8; Mucosa pulmonis suis D8; Mucosa oculi suis D8; Mucosa vesicae felleae suis D8; Mucosa pylori suis D8; Mucosa duodeni suis D8; Mucosa oesophagi suis D8; Mucosa jejuni suis D8; Mucosa ilei suis D8; Mucosa coli suis D8; Mucosa recti suis D8; Mucosa ductus choledochi suis D8; Mucosa vesicae urinariae suis D8; Ventri- culus suis D8; Pankreas suis D10; Argentum nitricum D6; Atropa belladonna D10; Oxalis acetosella D6; Semecarpus anacardium D6; Phosphorus D8; Lachesis mutus D10; Ipecacuanha D8; Nux vomica D13; Veratrum album D4; Pulsatilla pratensis D6; Momordica balsamina D6; Ceanothus americanus D4; Natrium diethyloxalaceticum D8 0.05 ml each.