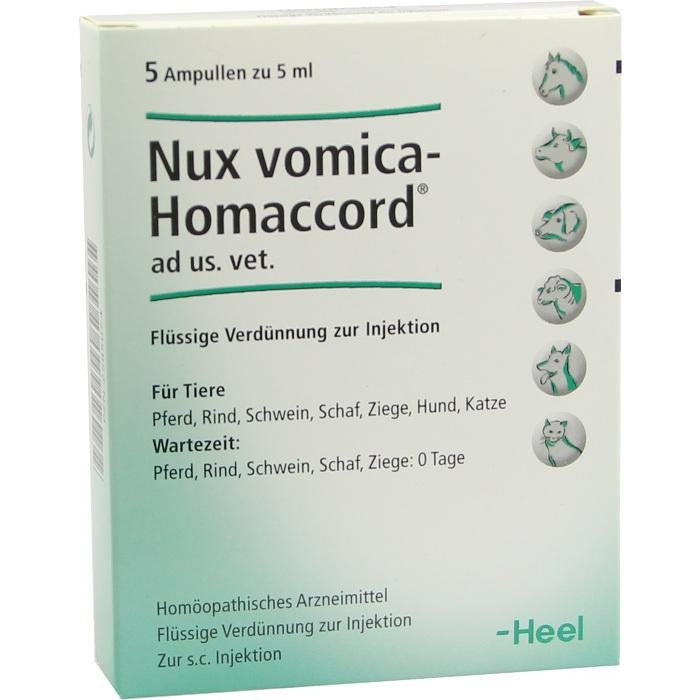 Heel
Nux-Vomica Homaccord - Ampoules 5ml
£16.93
Indications:
Dysfunctions in the gastrointestinal and liver system, spastic processes of the alimentary tract with restlessness, colic, acute and chronic gastroenteritis, obstipation with spasms, slipped discs, meteorism.
Dosage:  Solution: In acute disorders daily, otherwise 1-3 times weekly 1 ampoule
Compositum:
Nux vomica-Homaccord ad us. vet.: 1 ampoule of 5 ml (= 5 g) contains: Strychnos nux- vomica D4, Strychnos nux-vomica D10, Strychnos nux-vomica D15, Strychnos nux- vomica D30, Strychnos nux-vomica D200, Strychnos nux-vomica D1000 10 mg each; Bryonia D4, Bryonia D6, Bryonia D10, Bryonia D15, Bryonia D30, Bryonia D200, Bryo- nia D1000 10 mg each; Lycopodium clavatum D5, Lycopodium clavatum D10, Lycopo- dium clavatum D30, Lycopodium clavatum D200, Lycopodium clavatum D1000 15 mg each; Citrullus colocynthis D5, Citrullus colocynthis D10, Citrullus colocynthis D30, Citrullus colocynthis D200 15 mg each.