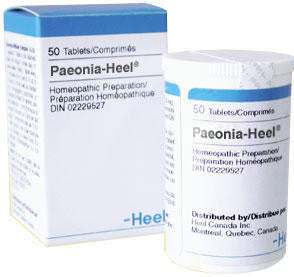 Heel
Paeonia Heel - 50 Tablets
£7.95
Composition: 1 tablet cont.: Paeonia officinalis D3 120 mg; Graphites D6 60 mg; Nux vomica D4, Sulfur D4, Acidum nitricum D6, Hamamelis virginiana D3 30 mg each.
Indications: Eczema and anal fissure; haemorrhoids.
Dosage:In general, 1 tablet to be dissolved under the tongue 3 times daily. In acute disorders, initially 1 tablet every 15 minutes, over a period lasting up to two hours. Package sizes: Packs containing 50 tablets.
Additional Information - Pharmacological and clinical notes: 
Paeonia officinalis (peony)
Haemorrhoids, fissura ani, anal eczema.
Graphites (graphite)
Dry, cracked skin but also eczema with yellow crusts, chronic (particularly atonic) constipation, colitis mucosa.
Nux vomica (vomit-nut)
Haemorrhoids, spasmodic constipation, remedy for affections of the stomach, intestine, liver.
Sulfur (sulphur)
Irritating, weeping exanthemata, e.g. pruritus ani, haemorrhoids.
Acidum nitricum (nitric acid)
Action on the mucous membranes and skin, especially the transitional region (anus, vulva); fissura ani with pain upon defecation, haemorrhoids.
Hamamelis virginiana (witch-hazel)
Haemorrhoids, venous haemorrhages, inflammation and wounds.
Based on the individual homoeopathic constituents of Paeonia-Heel, therapeutical possibilities result for the treatment of haemorrhoids, haemorrhoidal bleeding, eczema, fissura et prolapsus ani, rectal tenesmus, intertrigo (in addition to Abropernol, Graphites-Homaccord, Psorinoheel, Schwef-Heel, Sulfur-Heel, Mezereum-Homaccord, etc.).