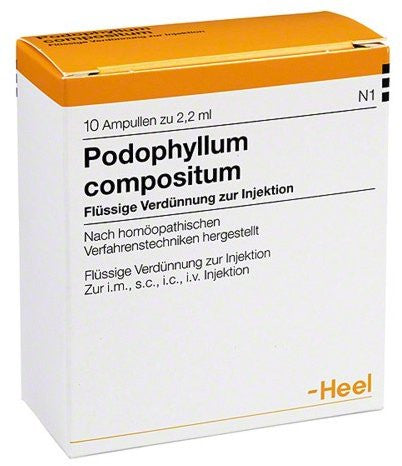 Heel
Podophyllum Compositum - Ampoules
£33.57
Indications: Haemorrhoidal disorders, catarrhal colitis, e.g. colitis mucosa et ulcerosa; pre- operative and post-operative administration in neoplasia.
Dosage: Solution: In acute disorders daily, otherwise 3-1 times weekly 1 ampoule i.v
Contraindications: Pregnancy and lactation 
Side effects: In rare cases, increased flow of saliva may occur after taking this medication. If this happens, the therapist should be consulted.

Interactions with other medication: None known.
Composition: Solution: 2.2 ml cont.: Podophyllum peltatum D2, Podophyllum peltatum D10, Acidum hydrochloricum D4, Acidum hydrochloricum D10, Ignatia D3, Mercurius sublimatus corrosivus D8 22 μl each.