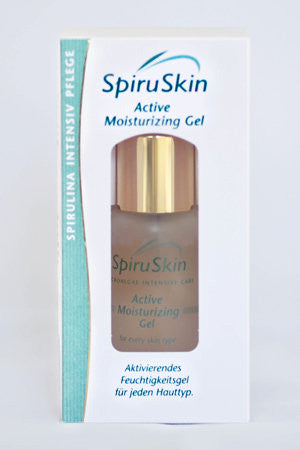 Spiruskin
Spiruskin Active Moisturising Gel
£33.46
Moisture is one of the most important components for smoother, younger looking skin.
Active Moisturising Gel
Pure moisture as serum or mask; especially suitable for:
moisture poor and dry skin
adult skin
demanding skin
sensitive skin tending to facial erythrosis or telangiectasis
irritated skin tending to redness
The pure, non-fatty gel with an effective complex of active ingredients of spirulina platensis microalgae and seaweed extracts provide the skin with long-term moisture. The unique formula supports elasticity and balances moisture. 
After a few applications only the skin already looks more vital, smoother and softer. The face gets new freshness and a soft appearance.
Fine lines are softened; the skin appears well-circulated, smoother and juvenile fresh.
Important, natural substances:
Spirulina platensis microalgae with various amino acids, vitamins and vital substances
Seaweed extracts
Ingredients: 
Aqua, Glycerin, Algin, Spirulina Platensis Extract, Phenoxyethanol, Chlorphenesin, Trisodium Phosphate, Salicylic Acid, Xanthan Gum, Disodium EDTA, Agar, Magnesium Nitrate, Methylchloroisothiazolinone, Magnesium Chloride, Methylisothiazolinone