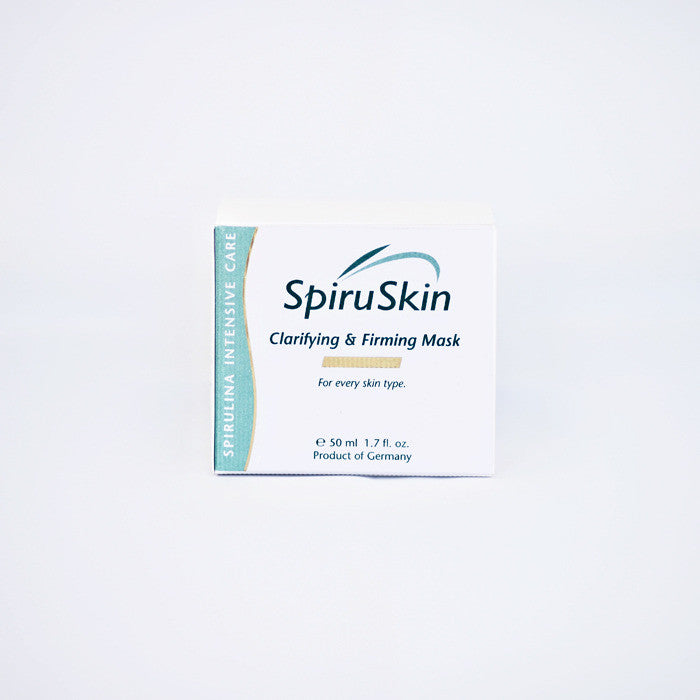 Spiruskin
Spiruskin Clarifying and Firming Mask
£21.71
❋ Clarifying & Firming Mask 
- Firming cleansing mask; especially suitable for:
- normal and mixed skin 
- a skin complexion with acne 
- fatty skin with big pores (seborrhea)
- as soft cleansing also suitable for:
- adult skin 
- demanding skin 
- irritated, reddened skin 
- skin tending to telangiectasis and facial erythrosis
This firming cleansing mask removes soft and gently dead cells from the upper skin layers. Zinc oxide, kaolin and panthenol have a calming effect on sensitive skin tending to impurities, smooth and firm the tissue, support perspiration and mat the skin complexion. 
Spirulina plantensis and allantoin stimulate the vital forces. The skin complexion gets a clear and velvet appearance. 
This mask can also be applied in case of impurities on breast and back. Skin impurities can heal more quickly.
Fine lines are softened; the skin looks well-circulated, smoother and juvenile fresh.
Important, natural substances:
•

Spirulina platensis microalgae with various amino acids, vitamins and vital substances

•

Zinc oxide 

•

Kaolin 

•

Allantoin
Ingredients:
Aqua, Zinc Oxide, Kaolin, Glycerin, Propylene Glycol, Hectorite, Hydroxyethylcellulose, Spirulina Platensis Powder, Tocopheryl Acetate, Allantoin, Imidazolidinyl Urea, Phenoxyethanol, Methylparaben, Panthenol, Parfum, Ethylparaben, Propylparaben, Linalool, Coumarin, Chlorhexidine Digluconate, Citronellol, Geraniol 
Sanatur GmbH, Im Haselbusch 16, 78224 Singen (Germany)