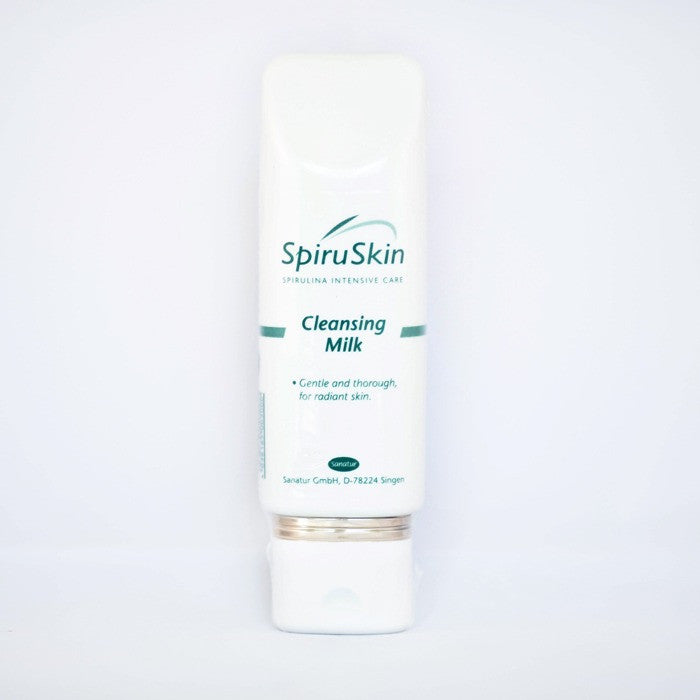 Spiruskin
Spiruskin Cleansing Milk
£21.88
The SpiruSkin Cleansing Milk is one of our favourite products by SpiruSkin.
Cleansing Milk  
for all skin types, e.g.
for moisture poor and dry skin
for adult skin
for demanding skin
for sensitive skin tending to facial erythrosis or telangiectasis
for irritated skin tending to redness
for fatty skin with big pores (seborrhea)
for skin tending to impurities and acne
SpiruSkin Cleansing Milk removes soft and thoroughly all fat and water soluble impurities, cream, make-up and sebum.
Valuable caring substances calm at the same time-sensitive skin tending to impurities. Sweet almond oil and maize germ oil provide the necessary lubrication.
Important, natural substances:
Spirulina platensis microalgae with various amino acids, vitamins and vital substances
Sweet almond oil
Maize germ oil
Ingredients: 
Aqua, Cocos Nucifera Oil, Glycerin, Stearic Acid, Cetearyl Alcohol, Prunus Amygdalus Dulcis Oil, Aloe Barbadensis Leaf Extract, Spirulina Platensis Extract, Phenoxyethanol, Triethanolamine, Chlorphenesin, Parfum, Carbomer, Disodium EDTA, Lecithin, Chlorhexidine Digluconate, Tocopherol, Maltodextrin, Ascorbyl Palmitate, Citric Acid